By Mark Olsen on November 30, 2021
Radio adapters provide a quick-release connection from a two-way radio to an accessory such as a speaker mic or surveillance kit. Adapters are a cost-effective method of making a universal accessory connection across a fleet of different model radios. Radio adapters are primarily used in industries where there are a lot of different parts to a uniform allowing a radio to be removed from the users uniform without removing the accessory.
Benefits of Radio Adapters
Personnel working in public safety wear their speaker on the vest, and the two-way radio is attached to their belt. With a radio adapter, disconnecting the mic from the radio is a simple process and can be done instantly. Personnel do not have to worry about wiring when plugging or unplugging the accessory from the two-way radio.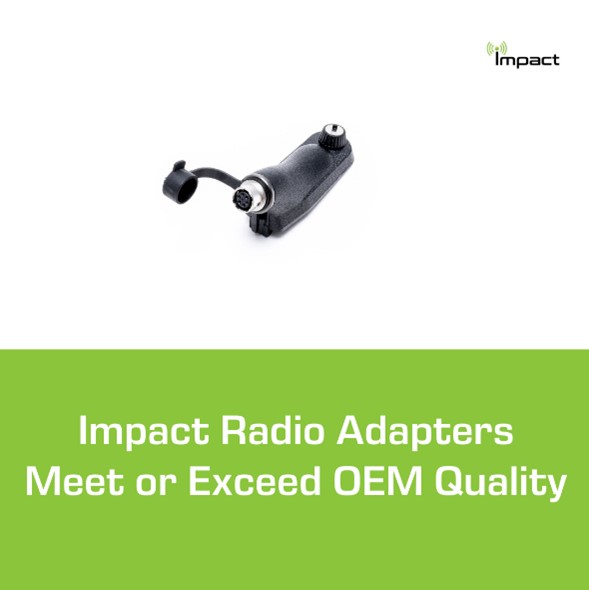 They also act as universal adapters when different radios are used in an organization. A single adapter can make an accessory compatible with different two-way radios. An adapter can be used to connect accessories to different makes and models of two-way radios, even within the same manufacturer. For example, Motorola makes two-way radios with different pin options and with an adapter, you can use one accessory with all of them.
Radio Adapters for Any Need and Budget
Impact offers two lines of radio adapters that are built to meet requirements according to need and budget. The Gold and Platinum Series adapters allow users to quickly attach and detach accessories without detaching the connector from the radio. 
Available Radio Adapter Types:
Genuine Hirose™ 6 Pin Quick Disconnect (M7) Adapters
Impact Quick Disconnect (M7) Adapters
3.5mm Threaded Adapters
Motorola Two-Pin (M1) Adapters
Why Choose Impact?
Impact's radio adapters meet or exceed OEM quality and are reliable, super-tough, and priced 30-60% less. Every Impact product has been tested by our Quality Control specialists and then tested again before shipping to you, ensuring that everything you buy works right out of the box and keeps working out in the field.
Easy Online Ordering
If you haven't ordered products directly on Impact's website, watch how easily you can do it in this 2-minute video.
---
Impact Radio Accessories is your #1 source for two-way radio accessories. We are a world leader in the design and manufacture of communication products, including surveillance kits, speaker mics, radio battery chargers, headsets, and adapters. Impact's accessories are trusted by demanding industries and applications such as public safety, security, construction, healthcare, manufacturing, transportation, hospitality, and beyond. OEM quality radio accessories at aftermarket prices.
Category: Adapters