By Cindy Danielson on July 10, 2020
COVID-19 has led to new practices at the workplace including social distancing, increased sanitation, and the wearing of masks. For those of us who wear a mask and use two-way radios, the accessories we use are key to overcoming the communication hurdle. As we get accustomed to these new practices, several challenges need to be overcome.
Here are 4 tips that you can use to improve radio communications with a mask.
1. Mic Positioning
How you position your mic can make all the difference in sound quality when you're wearing a mask. We recommend:
Surveillance Kits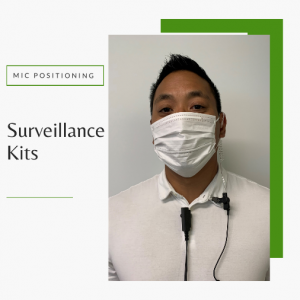 Boom Mics
Headsets with boom mics need the microphone to be positioned as close to the mouth as possible. This helps enhance voice quality, especially in loud environments.
Impact offers two-way radio headsets that are designed for light to heavy-duty users. There are several options to choose from including over-the-head, behind-the-head, temple transducer headsets, wireless push-to-talk, and much more.
If you are looking for alternatives to traditional headsets, we offer new solutions such as bone conduction earpieces and throat conduction mics that provide improved communication quality for those wearing masks.
If you want to learn more about bone conduction technology, read our blog What is Bone Conduction and How is it Used in 2-Way Radio Accessories?
Speaker Mics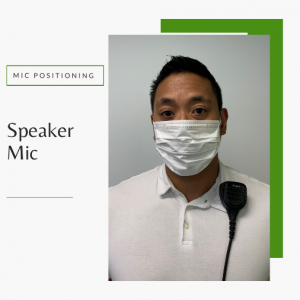 Two-way radio speaker mics need to be pinned to the collar of your shirt and when used to communicate, need to be close to the mouth.
Impact speaker mics are designed for a wide range of applications and include noise suppression and IP-rated waterproof options to facilitate cleaning of the accessory for hygienic purposes.
They are available for new and discontinued portable two-way radios.
Our speaker mics feature:


High-grade components
Heavy-duty cables
High-impact resistant polycarbonate casing.
2. Use a Strong Voice
When you wear a mask, your voice becomes lower. Make sure you are using your whole voice which means opening your mouth, using plenty of breath support, and maximizing resonance.
3. Talk Slower
When speaking while wearing a face mask, allow a little more space between your words, pause frequently, and speak in shorter phrases. This will not only make you clearer, but you will also sound more confident and credible.
4. Enunciate
Face masks muffle our words, so to be understood clearly, we need to concentrate on enunciation. This is the time we should be exaggerating words, especially in the middle and end of sentences.
Following these steps can help you communicate more clearly while wearing a mask. Contact us today and discover what two-way radio accessories and microphones can best fit your needs.
---
Impact Radio Accessories is your #1 source for two-way radio accessories. We are a world leader in the design and manufacture of communication products including surveillance kits, speaker mics, radio battery chargers, headsets, and adapters. Impact's accessories are trusted by demanding industries and applications such as public safety, security, construction, healthcare, manufacturing, transportation, hospitality, and beyond. OEM quality radio accessories at aftermarket prices.
Category: Education Industry, Headsets, LEARNING CENTRE, Speaker Mics
Tags: Improving Communication, Tips