By Cindy Danielson on June 25, 2020
Bluetooth is a relatively new technology that allows short-range wireless communication between two devices. While it's the latest and greatest in wireless tech for radio, it may not be the perfect solution for all industries.
There have been security and reliability concerns so privacy-sensitive industries such as law enforcement and healthcare need to carefully assess if it's the right technology for them.
Here are 5 things you should consider before you switch to Bluetooth Accessories for Two-Way Radios: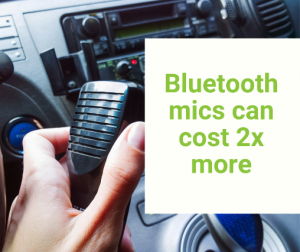 1. Cost
Purchasing Bluetooth accessories for two-way radio can mean higher prices. In some instances, the price of a Bluetooth accessory can cost twice as much as a wired accessory.
A question to ask when trying to justify the higher cost of Bluetooth is: What problem am I trying to solve with a Bluetooth accessory? An example of when the increased cost could be justified is to prevent the risk of injury or fatality in the workplace. In certain industries, the cost of an accident is way more than the cost of investing in equipment that would minimize/eliminate the risk of that accident from happening.
If you can clearly define the problem you want to solve, you can better calculate the cost of risk mitigation compared to the added cost of Bluetooth to make an informed decision.
2. More Parts
Bluetooth mics need several pieces to connect and function with a two-way radio such as dongles, adapters and charging cables.
With multiple parts to manage, using a Bluetooth device isn't necessarily more convenient and, in some cases, parts can be easy to lose and often expensive to replace.
These little parts can also be pesky to clean which is an important consideration when living during a pandemic – and once life starts to return to normal. In healthcare, users are exposed to all sorts of viruses and bacteria so easy cleaning is essential.
3. Reliability
Bluetooth mics need to be configured and paired with a two-way radio before being used. Unlike wired radio accessories that are plug and go, pairing a Bluetooth mic may require troubleshooting and cause frustration for the non-technical user.
Syncing is one of the biggest issues we've heard from dealers. We also experienced this with our own testing of Bluetooth products currently available in the marketplace.
Compared to their wired counterparts, which are powered by a radio, Bluetooth mics are self-powered and may require charging multiple times throughout the day.
Charging can also cause challenges as some work environments with fleets don't have enough outlets.
In addition, manufacturing environments typically need IP-rated radio accessories to prevent dust and moisture from corroding internal components and potentially damaging the accessory causing communication quality issues and ultimately reduce the product life. Bluetooth doesn't currently offer many IP-rated options.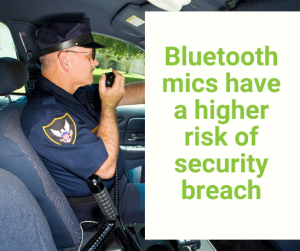 4. Security
The most important aspect to consider when making the switch to Bluetooth mics is the security risk associated with their use. The technology is easier to hack and comes with a higher potential for a security breach. This is why it's not often used by public safety personnel.
5. Limited Options
Although the options for Bluetooth accessories for two-way radios is growing, there still aren't as many options to choose from compared to wired accessories.
Today, Bluetooth accessories have limited applications and features; however, as the technology matures, we expect options will grow. It's important to consider your needs for today and tomorrow.
Impact products include budget-friendly options with our Silver Series (1-year warranty) through to heavy-duty solutions with our Platinum Series (3-year warranty).
Summary
While Bluetooth is a good option to consider, it's important to know all the facts before making the switch from wired products.
Impact's wired accessories cost less, are reliable, and easy to use and secure. They offer excellent digital audio quality that continues to help professionals from a variety of industries communicate clearly.
Contact us today and discover how our two-way radio accessories and microphones can best fit your needs.
If you have any questions or requests, call or email us at 1-866-525-9005 or sales@impactcomms.com
---
About Impact Radio Accessories
Impact Radio Accessories is your #1 source for two-way radio accessories. We are a world leader in the design and manufacture of communication products including surveillance kits, speaker mics, radio battery chargers, headsets, and adapters. Impact's accessories are trusted by demanding industries and applications such as public safety, security, construction, healthcare, manufacturing, transportation, hospitality, and beyond. OEM quality radio accessories at aftermarket prices.
Category: Microphones, Speaker Mics
Tags: Bluetooth, Gold, Platinum, Two-Way Radio Accessories