By Mark Olsen on March 27, 2019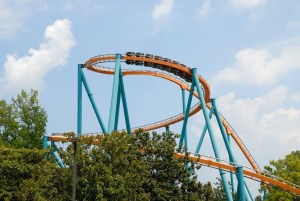 Year round, amusement parks draw large crowds of eager thrill-seekers and families. To ensure a safe and fun experience for all park guests, it's important for staff to stay in contact – and using two-way radios is the best way to make this happen.
You know the benefits of using two-way radios:
Wide Coverage Area: Amusement parks cover wide distances, making it difficult for staff to stay in touch on the go. Two-way radios provide excellent range, allowing for high quality audio from one end of the park to the other.
Can Be Used in All Weather: Since park staff are largely working outdoors, it's important to choose durable equipment that can be used in all kinds of weather. Many radios and accessories are available in different IP ratings, offering protection from dirt and moisture.
Instant Communication: Two-way radios allow for instant communication, meaning staff can immediately provide assistance to guests, address any safety issues, and keep the park clean without disrupting visitor experience.
Read on to find out how two-way radio accessories can make all the difference for theme parks.
Choosing Radio Accessories for an Amusement Park
To get the most out of your investment in two-way radios, it's a good idea to explore your accessory options.
With a large crew, many radios will be in use at once. Universal charging banks allow you to charge multiple radio batteries at a time, even if they are different brands or models. It's a good idea to have multiple chargers placed conveniently throughout the park so staff can always swap out for a full battery.
Amusement parks are noisy places, which can make communication difficult. Noise-cancelling accessories are a great option for employees working in loud areas of the park or with noisy equipment, such as ride maintenance and groundskeepers. These accessories block out background sounds and allow for clear audio.
Security is crucial in any place where large crowds gather, and staff need to keep an open line or communication. Covert earpieces allow security guards (plainclothes or uniformed) and ride attendants to communicate discretely while serving guests and maintaining situational awareness.
An outdoor environment like a theme park can put accessories at risk for damage caused by water or dirt—especially if there's a water park onsite. Check out equipment like the IP67 speaker mic for protection against dirt and moisture.
Buying accessories from your radio manufacturer can be expensive – our accessories are designed to save you money without sacrificing audio quality.
---
Impact Radio Accessories is a world leader in the design and manufacture of unique communication products including surveillance earpieces for a range of industries and applications including public safety, security, hospitality, and others. Contact us today to learn more about our product offering!
Like this? You might also like:
Category: Amusement Parks
Tags: