By Mark Olsen on November 7, 2018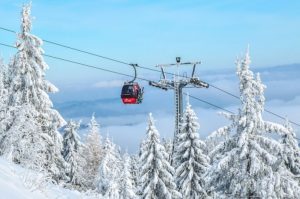 Winter is on the way—which means it's only a matter of time before ski hills and resorts start gearing up for the season. Before the slopes fill up with skiers and snowboarders, it's important to have a communication strategy in place to enhance guest experience and ensure the safety of everyone.
How 2-Way Radios Can Be Used at Ski Resorts
BearCom has outlined just some of the ways that 2-way radios can be used both outdoors and indoors to ensure a successful season at your winter resort. From safety on the ski hill to customer service in the chalet, radios are the most effective way for your team to stay in touch.
Outdoor Use
Chairlift staff can provide better service, call for back up, or report maintenance issues.
Safety patrols can radio in the all-clear or request help quickly if there is an accident or other emergency.
Employees in parking areas, snowmobile trails, snowshoe hiking areas, tubing runs, and other remote areas can stay in contact with the main office.
Alerts can be issued to all outdoor personnel for weather incidents, lost skier searches, or other incidents.
Indoor Use
Front desk staff can check people in and out more easily and ask teammates for assistance as required.
Housekeeping and maintenance teams can get rooms ready more efficiently for new guests.
Restaurant staff can better serve hungry guests.
Security staff can more effectively coordinate with each other and manage incidents.
Choose Durable, IP-Rated Radio Equipment
For use in a cold, snowy environment, you'll want to ensure your equipment can stand up to harsh conditions—look for products with an IP rating that meets your needs for solid and moisture protection. Also keep in mind that batteries drain more quickly in cold weather, so be sure to have spares on hand along with universal charger banks to keep your crew in constant contact. Radio communication is the best way to ensure a successful season both on and off the slopes.
---
IMPACT™ is a world leader in the design and manufacture of unique communication products including surveillance earpieces for a range of industries and applications including public safety, security, hospitality, and others. Contact us today to learn more about our product offering!
Like this? You might also like:
Category: Ski Resort
Tags: