By Mark Olsen on May 15, 2019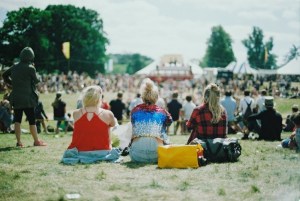 Outdoor festivals require serious coordination to ensure the event goes off without a hitch. Safety and security are two of the biggest concerns for festivals, but there are also logistical matters that necessitate instant communication between team members in different areas.
You already know the benefits of using two-way radios:
Reliable Coverage Across Distances: Festivals can cover large areas, and with crowds of people using their cellphones, surrounding cell towers can get overwhelmed. Two-way radios provide excellent range, allowing for clear and reliable audio across the event grounds.
Can Be Used in All Weather: With festivals that are held outdoors, it's important to choose durable equipment that can be used in all kinds of weather. Many radios and accessories are available in different IP ratings, providing protection from dirt and moisture that event staff are likely to encounter.
Improved Response Time: Two-way radios allow for instant communication, meaning staff can immediately provide assistance to attendees and address any safety issues, whether there is a security concern, medical emergency, or missing child.
Keep reading to find out how two-way radio accessories can enhance communication at an outdoor festival.
Choosing Radio Accessories for an Outdoor Festival
To get the best return on investment from your radios, it's a good idea to explore your accessory options.
Security is always a priority for festivals and events, so staff need to keep an open line of communication. Surveillance kits allow security personnel to communicate with each other discretely while maintaining situational awareness.
Outdoor festivals can put accessories at risk for damage caused by water or dirt. Look for IP-rated equipment like the IP67 speaker mic for protection against dirt and moisture.
Festivals are loud by nature, from the volume of speakers and sound equipment to the chatter of the crowd. Noise-cancelling accessories are a great option for festival staff working on the grounds since they block out background sounds and allow for clear audio.
Outdoor festivals often run for many hours (sometimes days) and employ a large team of event staff. Universal charging banks allow you to charge multiple radio batteries at a time, even if they are different brands or models.
When it comes to getting the most out of your two-way radio accessories, look for a supplier that offers a no-hassle warranty and high quality equipment without the OEM price tag.
---
Impact Radio Accessories is a world leader in the design and manufacture of unique communication products including surveillance earpieces for a range of industries and applications including public safety, security, hospitality, and others. Contact us today to learn more about our product offering!
Like this? You might also like:
Category: Events
Tags: