By Mark Olsen on October 1, 2019
It's that time of year when winter resorts are busily preparing for the season.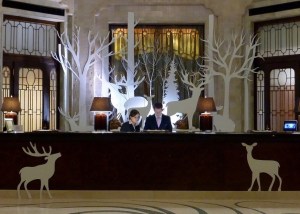 Maintaining clear communication amongst staff is critical to running a successful hospitality business, particularly when cold weather and winter activities place additional demands on property and staff.
In a previous article, we discussed how winter resorts and ski hills can benefit from the right two-way radio accessories for outdoor communication.
This article focuses on the many applications of two-way radios for indoor staff at winter resorts and the right accessories for the job:
Front Desk & Concierge
Guests are most delighted when their issues and questions are resolved quickly. Front desk and concierge staff are the front-line workers at your winter resort and the ones most often receiving questions and requests from guests. Two-way radios are ideal to relay requests and get information instantly. Whether a guest needs a wine-bottle opener or an appointment at the spa, front-line staff can fulfill their requests quickly or escalate issues to supervisors if required. 1-wire earpiece kits for two-way radios are ideal for front-line staff who require the Push-To-Talk (PTT) and microphone on their shirt collar or lapel.
Housekeeping and Maintenance
Winter can be beautiful, but it's also messy and can place a great deal of wear and tear on property. It's critical that maintenance staff are immediately notified of issues such as spills and damage. With busy guests trying to make the most of the season and the holidays, demands on housekeeping are at their peak. It's crucial for housekeeping staff to stay in touch with front-line staff and supervisors to provide updates on room status and quickly respond to guest requests. 1-wire earpiece kits for two-way radios are also ideal for housekeeping and maintenance staff as they can be comfortably secured to uniforms.
Security
Winter activities are often accompanied by celebratory beverages, bonfires, and the occasional sports injury. Your security staff is there to ensure that guests have fun while staying safe and out of trouble. It's therefore crucial they stay in constant contact to alert other staff and management of issues or call for immediate back up, all while doing so discreetly so guests are not alarmed. 2-wire earpiece kits for two-way radios are ideal to help security staff maintain discretion while patrolling large properties.
The Right Radio Accessories for Indoor Hospitality Use
Impact's Gold Series Earpieces are the perfect solution for indoor hospitality use and are designed with an interchangeable earpiece system. Our Unique Snaptight™ feature allows your staff to select from 12 different fully interchangeable earpiece options, creating the most cost-effective, versatile, and hygienic solution on the market. You can order as many earpiece options for your staff as required, depending on their preferences and roles (some earpieces are designed to fit more securely, some are designed for discretion, etc.). Staff can then easily interchange the earpieces during shift changes, saving you money in the long run.
Choose from our G1W 1-wire option for regular communication, G2W 2-Wire option for more covert uses, and our GLO 1-Wire listen-only option which is ideal for those who supervise or oversee communications.
All of our Gold Series earpieces feature rugged anchored Kevlar™ reinforced cables for superior strength and durability, and a medium-sized Push-To-Talk (PTT) with large microphone screen for crystal clear audio. Explore our entire selection of two-way radio earpieces.
---
Impact Radio Accessories is a world leader in the design and manufacture of unique communication products including surveillance earpieces for a range of industries and applications, including public safety, security, hospitality, and others. Contact us today to learn more about our product offering!
Like this? You might also like:
Category: Ski Resort
Tags: