By Mark Olsen on November 5, 2019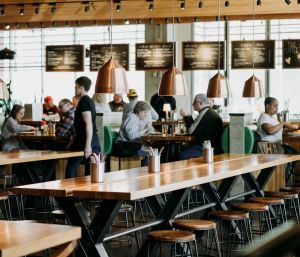 The hustle and bustle of a restaurant atmosphere – both in the front and back of house – is unmatched, especially as the holiday season approaches! With the increased volume of guests comes more noise to communicate over, more demand for faster turnaround of tables, and a great potential for increased revenue.
To accomplish all of these, though, your entire staff need to be able to communicate clearly, quickly, and effortlessly. This is where the benefits of two-way radios and affordable radio accessories comes into play.
Here are just a few of the benefits you can expect when investing in two-way radios and quality accessories:
Quick and Clear Communication. Give your staff the ability to communicate clearly. Whether it's kitchen staff asking a server a question about a customized order, or a server trying to locate the manager to escalate a request, your staff need to be able to converse clearly and quickly to ensure that your patrons are getting the best service possible. To achieve this ideal level of communication, give our Gold Series 2-Wire Kits a try for discreet but crystal clear conversation.
Cost Savings and Increased Revenues. By investing in quality accessories from Impact, you'll be maximizing your cost savings on necessary equipment this holiday season. Not only are our ear pieces and microphones OEM quality, they also come to you at aftermarket prices. So, while your staff is impressing your guests with quick answers to questions, fast turnaround times on tables, and the five-star service your establishment is known for, you'll be saving money while making a wise investment. For a lightweight headset with crystal clear sound and a three year warranty, try our Behind the Head Single Muff Headset.
Increased Return Business and Customer Loyalty. When diners are happy with the experience they've had at a restaurant, they tend to return and refer friends, family, and coworkers. The power of a positive referral is highly sought after for any product or service, and can only be achieved when you've provided your customers with the confidence that the service they've received was stellar and that anyone they recommend your establishment to will have that same experience. By providing your staff with the right resources to perform at their maximum efficiency, you're one step closer to securing those coveted word-of-mouth accolades. Give your staff the tools they need with our Gold Series Hard Wired kits.
A Gold Standard
Our Gold Series Earpieces are the perfect solution for restaurant environments and are designed with an interchangeable earpiece system. The Unique Snaptight™ feature allows your staff to select from 12 different fully interchangeable earpiece options, creating the most cost-effective, versatile, and hygienic solution on the market. You can order as many earpiece options for your staff as required, depending on their preferences and roles (some earpieces are designed to fit more securely, some are designed for discretion, etc.). Staff can then easily interchange the earpieces during shift changes, saving you money in the long run.
All of our Gold Series earpieces feature rugged anchored Kevlar™ reinforced cables for superior strength and durability, and a medium-sized Push-To-Talk (PTT) with large microphone screen for crystal clear audio. Explore our entire selection of two-way radio earpieces.
Enhancing the Experience
With customer expectations of dining experiences higher than they've ever been before, it's crucial to keep restaurant staff in sync and communicating well. With Impact Radio Accessories providing quality mics and earpieces at 30-60% less cost than OEM accessories, equipping your staff with the right communications equipment has never been an easier decision.
Connect with us today to discuss the options we have for your team!
---
Impact Radio Accessories is a world leader in the design and manufacture of unique communication products including surveillance earpieces for a range of industries and applications, including retail, public safety, security, hospitality, and others. Contact us today to learn more about our product offering!
Enjoyed this article? You might also like:
Category: Earpieces, Headsets, Restaurants
Tags: Communication, Holiday, restaurants