By Mark Olsen on October 15, 2019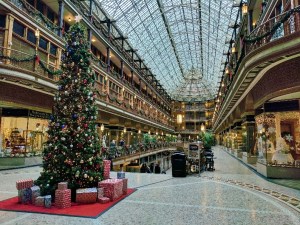 The holiday season is quickly approaching and that means retailers across the country are ramping up to handle large increases in foot traffic, sales, customer service interactions, and inventory shrinkage. To successfully manage the added pressure on store staff, retailers must employ proactive strategies that maximize labour efficiency across the board. One key to success is ensuring retail teams have crystal clear lines of communication.
Holiday Rush: How Radio Accessories Help Retailers
Two-way radios are important for retailers year-round, but they're especially effective during the holiday shopping season when the need for seamless communication becomes urgent. Here's how adding the right two-way radio accessories can enhance your productivity, efficiency, and customer service:
Quick inventory checks. You don't have time to let salespeople run to the back of the store and check on inventory while dozens of customers impatiently wait for service. Conduct quicker inventory checks by instantaneously relaying customer requests.
Instant communication. No more searching for a manager or looking for the correct salesperson to answer a question. Instantly communicate with in-ear accessories.
Better loss prevention. Billions of dollars of goods are stolen from retailers each year – including millions of dollars worth during the holiday rush. Loss prevention teams can use more discreet two-way radio earpieces, allowing them to quietly monitor customers and act on potential theft in a more coordinated fashion.
Faster checkout. When combined with mobile POS devices (e.g. Zebra), two-way radio accessories give retailers the flexibility to check customers out from anywhere in the store.
Efficient training. As retailers hire temporary staff to ramp-up for the season, the right two-way radio accessories make training new staff easier when they have the ability to radio in questions and concerns in real-time.
Top Radio Accessories This Holiday Season
To get ahead of the busy rush this holiday season, check out our Impact Silver Series – a line of very affordable two-way radio earpieces designed specifically with budget in mind and intentionally less robust than our Gold and Platinum lines. They're ideal for light-duty retail use, offer fantastic audio quality, and come with a one-year warranty, all at a fraction of the cost of OEM radio accessories! Our products are fully-compatible with the leading two-way radio manufacturers including Motorola, Kenwood, Vertex, and Icom.
Please feel free to contact us to learn more about our two-way radio accessories and how they can help your retail store weather the busy holiday shopping season!
---
Impact Radio Accessories is a world leader in the design and manufacture of unique communication products including surveillance earpieces for a range of industries and applications, including retail, public safety, security, hospitality, and others. Contact us today to learn more about our product offering!
Enjoyed this article? You might also like:
Tags: