By Mark Olsen on November 16, 2015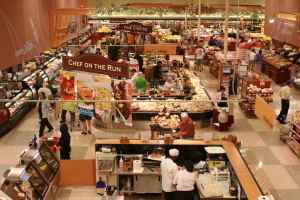 Top 3 Radio Accessories for Grocery Stores.
North America is home to over 45,000 Supermarkets and Grocery stores!
Grocery Stores and supermarkets are everywhere from the smallest of towns to the largest of cities. While they have seen technological advances in inventory and payment systems, many stores still use outdated telephone and intercom systems for in store communication. Portable 2-Way radios and accessories can help increase efficiency and response times while improving the shopper's experience by limiting unwanted, distracting noise from loud speakers.  When choosing Impact 2-way audio accessories and chargers you'll save money on a better product with longer and better warranty service!!
In the 45,000 + Supermarkets and Grocery Stores there are more than 4.4 Million employees.
These accessories are the ideal solutions for cashiers, merchandisers, maintenance & janitorial, general administration, customer service, management, counter workers, restaurant / cafe / catering, security/loss prevention and parking lot attendants.
The TOP 3 Selling Products to Grocery Stores & Supermarkets in North America.
1 and 2 Wire Earpieces
1. G1W and G2W
No two jobs are identical. No two ears are identical. That's why IMPACT™ offers 12 different ear options to cover every possible application and fit. Our exclusive Snaptight™ connector allows you to easily clip on the earpiece of your choice.
Best Selling Speaker Mic
2. PRSM-HD3 
Built super tough to withstand heavy use in demanding environments. Crystal clear audio, replaceable clip, standard 3.5mm accessory jac, Kevlar™ reinforced coil cabling, dust, water, vibration and wind resistant. This Mic carries a 3 Year Warranty.
Universal, Rapid Six Bank Desktop Charger 
3. AC/DC-6LC
An internal power supply (not in-line) and space saving design makes this the perfect multi-charger for small spaces.
With adapter cups available for almost every portable ever made, the AC/DC-6LC is simply the most versatile, feature packed and cost effective bank charger on the market today!
Tags: earpiece, grocery, store, supermarket