By Mark Olsen on October 5, 2016

Top 3 Radio Accessories for Ski Resorts
It's that time of year again where ski resorts will soon be bustling with new and returning staff from all over the world. One of the most important pieces of equipment they will be carrying is a two-way radio with a microphone or earpiece. This will ensure they are able to keep in close contact with all other staff within and outside of their user groups on the hill and at the resort properties.
These are the 3 top selling two-way radio accessories for ski resort staff and ideal solutions for cashiers, merchandisers, maintenance & janitorial, operations, general administration, customer service, management, counter workers, restaurant / bar / cafe / catering, security/loss prevention, parking lot attendants, lift operators, heli skiing, search and rescue, race teams/coordinators, events/concerts, rentals, instructors and ski patrol.
1. 1 and 2 Wire Surveillance Kits
P1W and P2W
Impacts Platinum Series outlasts and outperforms much higher priced brands. With Braided Kevlar cables and Knowles brand microphones the Platinum Series products will last season after season. All Platinum Series products carry a 3 Year Warranty. These units also have Noise Cancelling Options. Check out our P1W-AT1-NC.
---
2. Best Selling Waterproof Speaker Mic
PRSM-HD3-WP (IP67-Submersible)
The PRSM-HD3-WP is the IP67 Waterproof Version of our Best Selling PRSM-HD3, built super tough to withstand heavy use in demanding environments. Crystal clear audio, replaceable clip, standard 3.5mm accessory jack, Kevlar™ coil cabling and Submersible. This Mic carries a 3 Year Warranty.
Check out all our waterproof speaker mics.
---
3. Universal, Rapid Six Bank Desktop Charger
AC/DC6-USB
An internal power supply (not in-line) and space saving design makes this the perfect multi-charger for small spaces.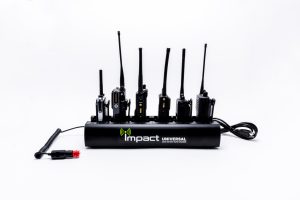 With adapter cups available for almost every portable ever made, the AC/DC6-USB is simply the most versatile, feature packed and cost effective bank charger on the market today!Save
Category: Ski Resort
Tags: hotel, resort, Ski, Ski Patrol, Ski Season, Snow, Waterproof