By Mark Olsen on February 15, 2022
Every second counts when you are responding to an emergency. That's why communication is critical for first responders. These personnel working as EMTs, police personnel, firefighters, and paramedics use two-way radios to remain in contact at all times and require accessories that are reliable, functional, and super-tough. Impact understands the importance of first responders' role and is committed to providing them with top-performing two-way radio accessories.
Two-Way Radio Accessories for Law Enforcement Personnel & Firefighters
For law-enforcement personnel and firefighters, we recommend our Platinum and Gold Series product lines that are designed and manufactured using the highest-grade materials to ensure clear communication from the field.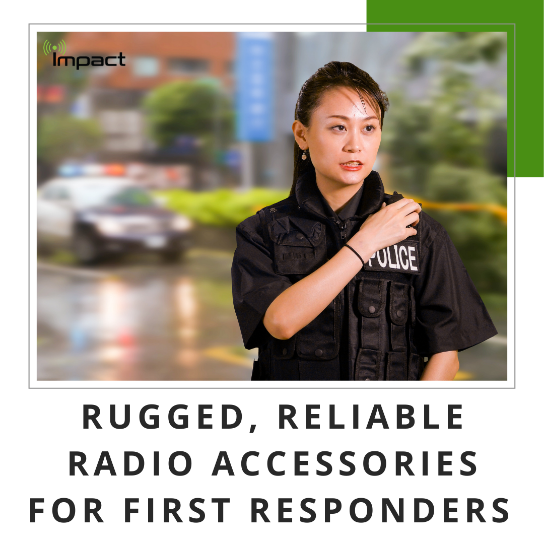 Earpieces and Surveillance Kits
Impact's Platinum Series 3-Wire Surveillance Kit is designed for users who cannot afford to sacrifice reliability and performance. This kit is also available in 1-wire and 2-wire options and features Kevlar® reinforced cables to ensure rugged reliability under any condition.
Speaker Mics
Speaker or shoulder-mounted microphones are a must-have for law enforcement personnel and firefighters looking to communicate with dispatch quickly and easily. Impact's Platinum Series Speaker Mics offer added durability, high impact casing, and waterproofing.
Bone Conduction Accessories
Traditional accessories may not be ideal for law enforcement personnel working in loud environments. For these personnel, Impact recommends a bone conduction earpiece.
Listen Only Accessories
Impact's Platinum and Gold series listen only earpieces for receive-only communication are ideal for police personnel who supervise or oversee radio communications.
Two-Way Radio Accessories for EMTs & Paramedics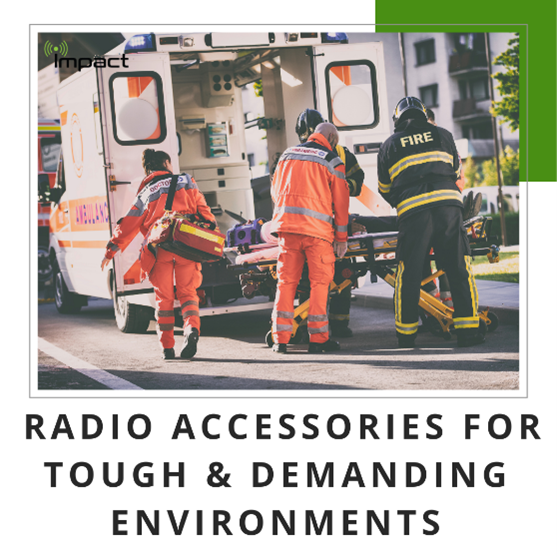 EMTs and paramedics require to relay information back and forth constantly, and any lapse in communication can be potentially life-threatening. We recommend Impact's Platinum Series and Gold Series two-way radio accessories for these first responders.
Platinum Series Two-Way Radio Accessories
These mics and earpieces are built for tough and demanding environments. They maintain clear audio, come with a three-year warranty and are wind, impact, and dust resistant.
Gold Series Two-Way Radio Accessories
The Gold Series earpieces offer Impact's unique Snaptight® feature, allowing users to select 12 different and fully interchangeable earpiece options. This creates the most cost-effective, versatile, and hygienic solution for first responders.
Benefits of Using Impact's Two-Way Radio Accessories
Clear and Quick Communication: With Impact's excellent digital audio quality, medical professionals can communicate clearly in their fast-paced environment. Impact has made four major quality improvements to ensure end-users benefit from the best performance in the field.
Warranty: At Impact, we design all our products and components and specify all manufacturing methods to ensure quality. They are tested no less than seven times by our Quality Control specialist and then tested again before being shipped.
Cost Savings: Impact's OEM-quality accessories are available at competitive prices. Get killer quality without breaking the bank!
Impact is committed to supporting first responders and are stocked with two-way radio accessories they require. Contact us today to discover how are accessories provide crystal clear communication for first responders.
---
Impact is your #1 source for two-way radio accessories. We are a world leader in designing and manufacturing communication products, including surveillance kits, speaker mics, radio battery chargers, headsets, and adapters. Impact's accessories are trusted by demanding industries and applications such as public safety, security, construction, healthcare, manufacturing, transportation, hospitality, and beyond. OEM quality radio accessories at aftermarket prices.
Category: Microphones, Speaker Mics
Tags: