By Mark Olsen on June 13, 2019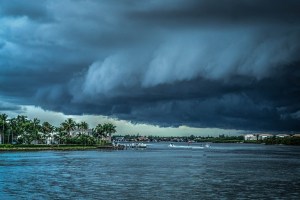 The 2019 Atlantic hurricane season has begun, and the U.S. Geological Survey estimates a 30 percent chance of this year being above normal in terms of hurricane activity. Communication is crucial in any disaster situation, and two-way radios are the most reliable way to stay connected.
Here are the two main benefits of using two-way radios during an extreme weather event:
Reliability: It's common for hurricanes to cause serious damage to communications infrastructure. For example, in 2017 Hurricane Harvey wrecked hundreds of cell towers. Two-way radios can still operate even if cell towers and internet services are affected by the storm.
Durability: Unlike cell phones, two-way radios are designed to be durable and rugged for use in all kinds of conditions that hurricanes bring, such as heavy rain, mud, dust, and other debris.
Read on to see the most useful accessories during hurricane season.
The Best Two-Way Radio Accessories for Hurricane Season
Here are some of the top accessories for use in disaster relief situations:
Universal Radio Chargers
Keeping spare batteries charged and ready to go is always a smart idea, especially in emergency situations. Some chargers can even be used in a vehicle, so you can keep charging even if the power goes out.
Noise Cancelling Accessories
Extreme weather is never quiet – fortunately, noise-cancelling accessories can drastically reduce all background noise while maintaining crystal clear transmission, allowing you to stay in communication when it counts most.
IP Rated Equipment
From rain, to flooding, to flying debris, extreme weather results in a harsh environment for radio equipment. Choose IP rated accessories that offer protection against dirt and moisture, allowing your equipment to last longer.
---
Impact Radio Accessories is a world leader in the design and manufacture of unique communication products including surveillance earpieces for a range of industries and applications including public safety, security, hospitality, and others. Contact us today to learn more about our product offering!
Like this? You might also like:
Category: Chargers, Learning Centre, WaterProof
Tags: