By Mark Olsen on October 24, 2018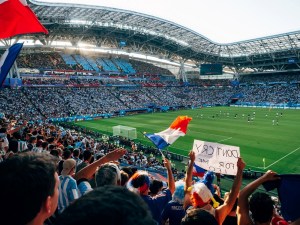 At any event with large crowds, it's crucial for workers to be able to communicate with each other quickly and reliably. However, BearCom points out that venues such as stadiums and conference centers can be challenging environments for communication systems, since concrete and steel buildings often block wireless signals and lead to communication dead-zones. Luckily, these issues can be avoided with the use of 2-way radio communication.
2-Way Radios Make Events Safer
Whether you're hosting a concert, convention, game, or conference, safety and security are always a top concern. Here are just some of the ways radios can improve event safety:
Security guards are able to discreetly call for backup in case of a forced entry, escalating situation, or suspicious activity.
If staff members notice a spill, plumbing problem, or any other infrastructure concern, they can call maintenance to have it fixed as quickly as possible—avoiding injury and liability.
In case of a health emergency, medical crews can be notified and dispatched immediately.
If a child goes missing, workers can send out an alert with a description so that everyone is aware of the situation and knows what to look for.
Efficient and Cost-Effective
With 2-way radios, you pay one upfront price along with the cost of accessories and chargers to keep your equipment running. These devices typically pay for themselves quickly in terms of cost-savings, efficiency, and safety. Reputable suppliers usually offer a warranty that covers any product issues, so you can buy with confidence knowing your equipment will last.
Instant communication between crew members, security, customer service agents, and managers mean staff spend less time running around trying to relay information and can focus on keeping the event running smoothly. Radio communications will help ensure that every event goes off without a hitch for staff and guests alike.
---
IMPACT™ is a world leader in the design and manufacture of unique communication products including surveillance earpieces for a range of industries and applications including public safety, security, hospitality, and others. Contact us today to learn more about our products!
Like this? You might also like:
Category: LEARNING CENTRE
Tags: