By Cindy Danielson on March 17, 2021
The Push-to-Talk or Press-to-Transmit (commonly known as PTT) feature refers to the switch or button on an earpiece or other audio accessory that activates the microphone and allows instant communication with other users.
Depending on your application and the gear you are wearing, the PTT button's size and type need to be considered.
Styles of PTT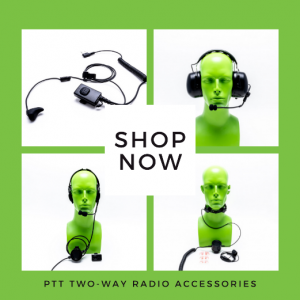 Firstly, it's important to understand the four common styles of PTT:
Finger PTT – This PTT has a wire that connects to the radio or accessory and is affixed to a user's finger with a Velcro strap to enable the user to have use of their hands. View Impact accessories with finger PTT.
Foot PTT – The PTT is affixed to the floor of a machine or vehicle to enable users to have full use of their hands.
Wireless PTT – This PTT is discreet and wire-free so the button or switch can easily be affixed to a steering wheel or other item with a Velcro strap. While wireless users appreciate being less encumbered than with a wire; this PTT has a increased risk of losing communication which is something to consider depending on the application. View Impact accessories with wireless PTT.
Standard In-Line Wired PTT – For all other applications, the wired 'in-line' feature means there is just one wire to the radio and is commonly found with surveillance kits. View Impact in-line wired PTT accessories.
Here are 3 things to consider:
There are three key considerations to find the right PTT for your users:
1. Application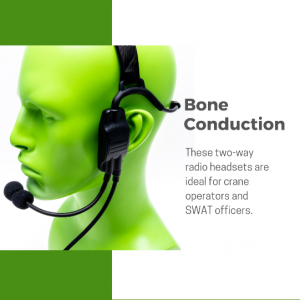 Wireless PTT – For users looking for the ultimate covert surveillance options, the mini-wireless PTT is the way to go for detectives and tactical squads as there are no obvious wires so users are unencumbered. Impact's P3W-AT1-WPTT is a 3-wire surveillance kit with a mini-wireless, waterproof PTT, about the size of a quarter, and includes a Velcro strap to secure it to your finger, steering wheel, or handlebars. The micro, ultrasensitive electric condenser mic with lapel pin can be hidden inside the collar.
Wired PTT

Professional users (e.g. hospitality, education) don't require wireless so wired PTT will do the job (and are often less expensive).
Users like crane operators and SWAT officers need full use of their hands so if wireless isn't their preferred option, the Finger PTT is a great alternative. While the Finger PTT is wired, users still have use of their hands and can easily engage the PTT with a 'quick finger click' as it's conveniently located on their finger. Our PTM-1 Heavy Duty Throat Microphone includes an oversized PTT, ring-finger switch, molded ear inserts and dual throat transducers for clearer sound. The PTM-1 is fully submersible and chemical resistant, with high-quality components and a multi-adjustable throat band. All-wheel-drive operators like throat mics as they enable clear communications with a PTT switch and are far less expensive than a wired race helmet.
For users that wear hearing protection or helmets, a wired PTT works fine as long as the accessory can fit comfortably with the added head gear. Our PTHS-SPTT is a Bone Conduction Two-Way Radio Headset that comes with a  Standard inline PTT with a wired Finger PTT.
Heavy-Duty – For users that work in demanding environments like public safety, search and rescue teams, a large PTT is required. needs to be tough and fit comfortably with helmets and hats. Our PBH-2 Heavy Duty, Single Speaker, Behind-the-Head Headset (Knowles™ Components and Noise Cancelling Mic) headset provides this heavy-duty solution. Its large inline (PTT) is easy to engage, comes with a swivel clothing clip and is suitable for users with helmets and hats.
Waterproof – for users that work outdoors (e.g. construction, transportation), the PTT needs to be waterproof. Our PDM-2 is a heavy duty, over-the-head, dual muff headset and includes 2 PTT options: (1) Inline, oversized tactical PTT switch and (2) remote wireless finger PTT switch using coin-cell, replaceable battery.
Quick Read: What Is Bone Conduction and How Is It Used in 2-Way Radio Accessories?
2. Gear and Attire
In addition to being wired/wireless, it's important to consider where the accessory will actually be located on the body.
Users working in professional environments like hotels and retail don't require big, cumbersome PTT accessories – they are looking for subtle yet practical options. Impact's Gold G1W 1-Wire Surveillance Kit is best-suited for users that need to wear the PTT and microphone on their shirt collar or lapel. It's ideal for warm weather locations or users wearing short sleeves.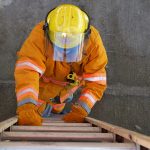 Users wearing bulkier clothing and outerwear require a speaker mic with a larger PTT and clothing clip to be attached higher on the chest or on the shoulder to help provide clear communications. Our PRSM-HD2-NC is noise-canceling and a great fit for loud environments as it has a large clothing clip. For wet/outdoor environments, our PRSM-HD3-WP is ideal.
3. Hand Protection
If users are wearing bulky gloves they need easy to use buttons so they don't need to remove gloves to communicate. Our PRSM-HD6-WP Speaker Mic has a "Push-Anywhere" PTT that is a great fit for Fire Fighters and warehouse employees wearing hand PPE.
For users wearing protective gear such as a hazmat suit, a heavy-duty, extra-large PTT switch is a great option. Our extra-large PRO-PTT can be custom made to be compatible with throat mics, temple, and double muff headsets. Don't be afraid of this custom product; we've supplied these to numerous customers and know how to deliver exactly what you need for a price you can afford.
Questions about PTT
Speak with one of our Radio Accessory Specialists to determine the right PTT and accessory for your users. Contact Us.
---
Impact Radio Accessories is your #1 source for two-way radio accessories. We are a world leader in the design and manufacture of communication products including surveillance kits, speaker mics, radio battery chargers, headsets and adapters. Impact's accessories are trusted by demanding industries and applications such as public safety, security, construction, healthcare, manufacturing, transportation, hospitality and beyond. OEM quality radio accessories at aftermarket prices.
Category: LEARNING CENTRE