By Cindy Danielson on April 14, 2021
Two-way radio users can be very demanding on their radio equipment. Radios and accessories like earpieces, headsets, speaker mics, and battery chargers can really take a beating.
Here are 4 ways to extend the life of your radio equipment and accessories with these cost-saving options:
1. Replace Charger Cups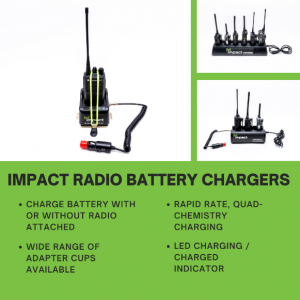 When you buy new radios, they typically come with a new type of battery that will require charging. Rather than buy an entirely new charger, it's typically more economical to buy a universal multi-bank battery charger where you can simply purchase replacement battery cups rather than a new charger that works with only one radio model. It's more economical and planet-friendly.
Impact's Universal Radio Battery Chargers utilize our fully interchangeable cup system to support most new and discontinued two-way radio batteries. We offer 1-bank, 3-bank, and 6-bank chargers that charge batteries with or without the radio attached and use rapid rate, quad-chemistry charging with a wide range of adapter cups. Some of our chargers offer an additional USB port so users can also charge other devices (e.g. phones, flashlights, etc.) at the same time.
2. Minimize Radio Damage with Adapters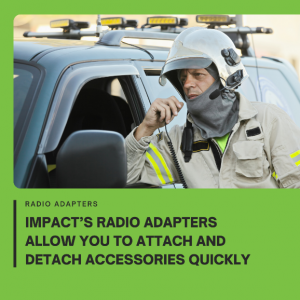 Radio equipment used in demanding industries (e.g., public safety, industrial, manufacturing) often gets damaged because users need a quick way to disconnect earpieces and surveillance kits from the radio for privacy or safety reasons.
Impact's Hirose™ 6 Pin in-line Quick Disconnect adapter series allows you to quickly attach and detach accessories without detaching the UDC/connector from the radio. This feature is particularly attractive when using multi-pin accessory connectors that are screwed down to the radio or when using retention brackets on single and dual pin jacks. 
An adapter is far more economical and practical to minimize radio damage that will likely result in a costly radio repair or an even more expensive complete radio replacement.
3. Use Interchangeable Earpieces
Every user's ear has a different size and shape, so what may work well for one user may not be comfortable for another. Impact's Gold Series' Snaptight feature has 12 different fully interchangeable earpiece options to create the most comfortable, cost-effective, versatile, and hygienic solution on the market. Our Gold Series are better quality and come with a longer warranty than other competitor interchangeable earpieces.
Watch and learn how Impact's Gold Snaptight features works:
3. Replace Ear-Touching Parts
COVID has highlighted the importance of hygiene, and radio accessories are no different. You wouldn't re-use a Q-Tip over and over again (gross!), so it's not reasonable to expect users to re-use acoustic tubes and ear gels for months without replacing them. Just replace the ear-touching parts (vs. the whole earpiece) for a more cost-effective solution.
Popular replacement parts include: earbuds, earplugs, acoustic tube QDATs, and foam covers. View All Our Replacement Parts
Hygiene Tips – To extend the life or ear-touching parts, also remind users of these hygiene tips:
Looking for Other Cost-Saving Ideas?
---
Impact Radio Accessories is your #1 source for two-way radio accessories. We are a world leader in the design and manufacture of communication products including surveillance kits, speaker mics, radio battery chargers, headsets and adapters. Impact's accessories are trusted by demanding industries and applications such as public safety, security, construction, healthcare, manufacturing, transportation, hospitality and beyond. OEM quality radio accessories at aftermarket prices.
Category: LEARNING CENTRE
Tags: adapters, Charger Cups, earpieces, Replacement Parts