By Mark Olsen on February 25, 2020
Keeping golfers golfing is most important to running a successful golf course. Two-way radios and accessories keep Rangers, Starters and Cart Staff communicating to stay on touch instantly with all that's happening on the course, while keeping the flow of play smooth – and golfers happy!
Two-way radios can also provide extra security for both staff and guests and are useful so staff can provide guests with immediate service at an event, hotel room, restaurant or by the pool.
Also, read Why You Need to Equip Your Golf Course with Two-Way Radios.
Find the Right Radio Accessories for the Golf Course
Are your radios exposed to environmental elements like humidity, rain, heat, sand or dirt? If so, you will need a radio and accessories that can handle environmental exposure and are waterproof.
Are your radios used every day or for long periods of time? If so, you need battery charging options.
Which accessories best fit the needs of your staff? Do you prefer employees use discreet listening devices, like surveillance kits, so golfers can't hear transmissions or be interrupted by radio communications?
What is the size and topography of your golf course? The selection of two-way radios for your course will depend on the coverage area you need. Be sure to consider future growth or expansion of the course.
Are employees encouraged to solve problems through instant communication?
Check out our suggested products for the Golf and Hospitality Industry.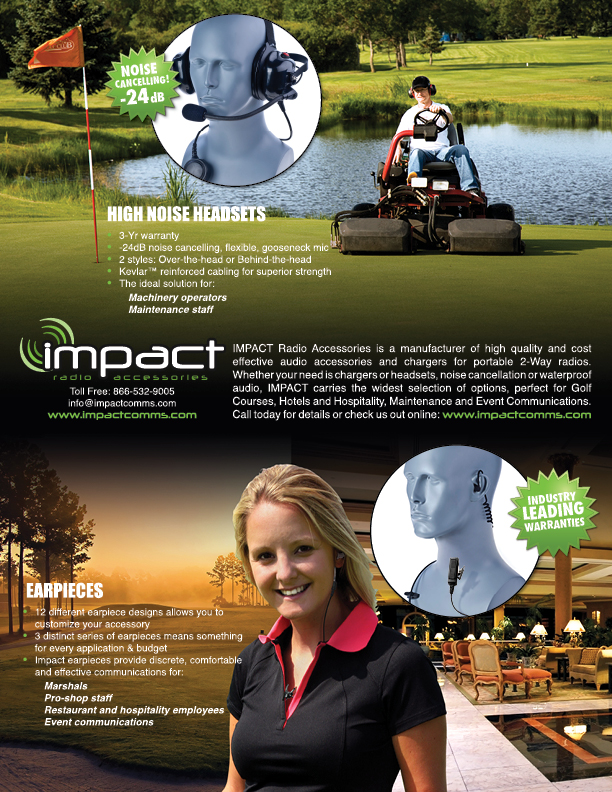 Why Impact Radio Accessories?
Impact offers quality and cost effective radio accessories with industry-leading warranties and efficient service. Impact accessories are the 'go to' choice for several annual PGA and other professional worldwide golf tournaments, hundreds of private and public golf courses throughout North America and some of the largest hotel and resort properties in the world.
Category: Earpieces, Golf and Hospitality, Headsets, LEARNING CENTRE, Speaker Mics, Surveillance Kits, WaterProof
Tags: