By Mark Olsen on March 29, 2017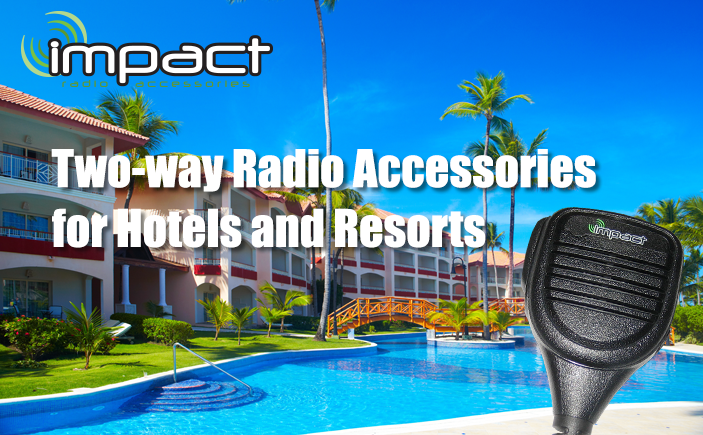 To help ensure that guests remain happy and satisfied, hotel and resort staff need to be connected in order to be responsive to any requests or issues. Two-way radios allow hotel and resort staff to remain connected regardless of the size of the property ensuring that they are always connected and accessible.
2-way radios from manufactures such as Motorola, Kenwood, Hytera, Vertex and ICom provide the base to build a custom communication solution specific to the roles of your staff. To extend the capabilities for your radio system, all while increasing staff productivity and responsiveness and the over all guest experience, IMPACT Radio Accessories offers a wide range of portable 2-way radio accessories including; earpieces, headsets, speaker mics and chargers, compatible with all brands and models.  Impact's audio accessory offering allows hotel and hospitality users to custom tailor their accessory needs for different applications such as housekeeping, security, guest services, room service, maintenance and grounds crews.
Front desk staff generally act as the primary point of contact for guest requests or problems. As such they need to be constantly connected with the entire hotel team, all while maintaining their professional look and ensuring that radio communications do not disturb the ambiance of the hotel or guest experience.  IMPACT's Gold Series 1-Wire Surveillance Kit earpieces  are the perfect solution for your front-of-house staff as it's concealable, has 12-different detachable/interchangeable ear piece styles that result in increased customizability and shareability among team members, and keep conversations discrete and private.
Maintenance and housekeeping departments often find themselves in environments with higher than normal noise, produced by equipment such as lawnmowers, washing machines and busy lobbies. For these high noise environments, IMPACT Radio Accessories offers a wide range of background noise cancelling audio accessories, including earpieces, headsets and speaker microphones all designed to minimize the effects of background noise. The PRSM-HD2-NC speaker microphone is the perfect audio accessory solution for your maintenance and housekeeping teams.  Not only does the PRSM-HD2-NC speaker mic provide noise cancelling for crystal clear communication, it's also extremely durable and comes with a 3-Year manufacturer's warranty.  If you need an audio accessory that is a little more discrete or covert, check out IMPACT's P1W-NC and P2W-NC noise cancelling, acoustic tube earpieces, also with a 3-year manufacturer's warranty.
Hotel and Resort security staff love our P2W and G2W surveillance kits. These low profile kits fit comfortably under a suit or casual clothes helping your security staff blend in with the crowd while the earpieces keep conversations discrete. For uniformed security personal that prefer to use a mic, IMPACT's PRSM-HD3-WP is a durable and waterproof mic that provides high quality audio and can be enhanced with a PRSMA which is IMPACT's professional grade 'listen only kit'. The PRSMA connects to the speaker mic with a 2.5 or 3.5mm jack and allows the user to listen to communications via an acoustic tube with ear bud or with a D-shaped ear hanger.
IMPACT Radio Accessories offers a number of unique, universal charger solutions for portable 2-way radios, such as the AC/DC-6LC, 6-bank, rapid charger. If your hospitality property uses a mix of portable 2-way radio brands and/or models, no problem! With universal, rapid chargers from IMPACT Radio Accessories, you can charge up to 6 different batteries at once.  No matter if you run Motorola, Kenwood, Vertex, Hytera (or a mix of all the above) walkie-talkies, IMPACT chargers use a universal, modular cup design that allows the charger to work with just about any portable 2-way radio battery ever made.  With the internal (not inline) power supply unit, charge anywhere in the world (110 or 240V) with no modifications or special adapters.
At IMPACT Radio Accessories, we have an extensive range of two-way radio accessory solutions to meet the specific needs of hotels and resorts. Be sure to check out all IMPACT Radio Accessories products online at www.impactcomms.com or contact us today toll free at 866-532-9005 to learn more about the many portable 2-way radio accessory solutions for hotel and hospitality users.
Save
Save
Category: Casino, Chargers, Earpieces, Golf and Hospitality, Hytera, Microphones, Surveillance Kits, Vertex, Walkie Talkies, WaterProof
Tags: