By Mark Olsen on January 24, 2019
As a leading supplier of aftermarket two way radio accessories, we always love hearing from our customers. Check out what this dealer had to say:
Kudos from Impact Dealer
"Just wanted to let you know we just repaired one of your mics. This speaker/mic is used hard in a very harsh environment on a daily basis. I date each mic when it goes out of here to see how old it is should it come in for repair. This unit was put out in April of 2013!
Other than replacing a blown speaker it is going strong. A true testament to the quality of your product. Our customer would never accept anything less than an Impact mic! (makes us both look good)."
Denise G.
Impact Dealer Partner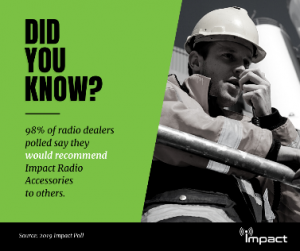 About Impact Radio Accessories
Impact Radio Accessories is your #1 source for two-way radio accessories. We are a world leader in the design and manufacture of communication products including surveillance kits, speaker mics, radio battery chargers, headsets, and adapters. Impact's accessories are trusted by demanding industries and applications such as public safety, security, construction, healthcare, manufacturing, transportation, hospitality, and beyond. OEM quality radio accessories at aftermarket prices.
Category: Customer Testimonials, Speaker Mics
Tags: