By Mark Olsen on May 16, 2016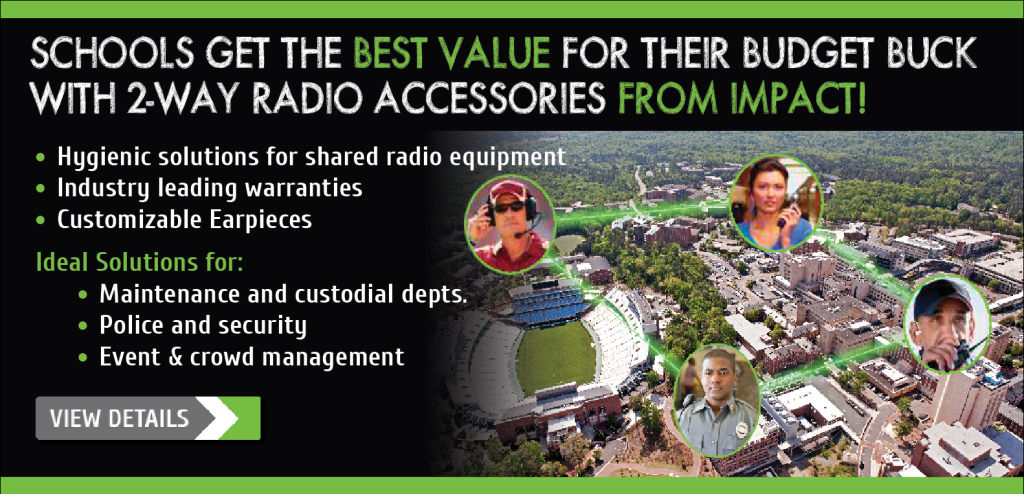 Two way radios offer educational establishments a vehicle to increase their operational efficiency while affording improved safety and well-being for staff, students and guests. Ranging from the simplest license free handsets to the more complex fully licensed systems there is a solution to fit any requirement or budget.
Areas of use include: Security, Caretakers, Support Staff, Maintenance, Sports, Events, Administration and Faculty. In these times of necessary enhanced security and the need to provide the very best learning environment, radio puts you in command of your support and teaching teams. Caretakers and Maintenance would find the ease of communication over larger sites invaluable, maximizing available resource simply and reliably keeping in touch with other radio users.
Applications also exist within fire evacuation, classroom control, registration and frequently used to silently alert other staff members of behavioral or other urgent student related issues. For added security, operational efficiency and enabling the provision of enhanced safety for your staff and students, radio clearly forms an obvious choice.
Accessories for two way radios are also a must have in this crucial environment, not only for convenience but for increased efficiency. Here are the best-selling accessories in North America for Schools:
G1W – One Wire Earpiece
G2W – Two Wire Surveillance Kit
PRSM-HD3 – Speaker Mic
PRSM-HD3-WP – Waterproof (IP67) Speaker Mic
POH-2 – Lightweight Headset
PBH-1 – Lightweight Headset (Behind the head)
PDM-1-NC – Heavy Duty Noise Cancelling Headset (Behind the head)
AC/DC-6LC – Lowcost, Multi-Bay Charger
AC-1 – Single Charger
Category: Education Industry, LEARNING CENTRE
Tags: Education, Event Radios, Faculty Radios, Maintenance Radios, School radio, Schools, two way radio