By Mark Olsen on January 4, 2017

Vertex EVX-S24 Accessories.
Vertex EVX-S24 are new, compact and discreet. It's the smallest and lightest Digital radio that Vertex makes. It's slim and easy to carry making it ideal for hospitality, education, retail and any other market that values convenience and size. The EVX-S24 is water submersible and dust proof. Rated at IP67, it's protected from immersion in water up to 1 meter for 30 minutes and offers complete protection from dust.
This is a great little radio and very affordable. Vertex offers a light duty headset, VH-190, and a light duty ear-hook earpiece, MH89A4B.
Impact Radio Accessories has released a massive selection of products including noise cancelling and water proof microphones, 30 different earpieces, along with Platinum noise-cancelling surveillance kits.  The Vertex EVX-S24 has a unique single pin connector making all of these products specifically for the EVX-S24. Pricing is from $26.40-$115.50 depending on your needs but your Impact Dealer may sell for less.
Here are a few examples of Impacts high quality, Vertex EVX-S24 product line.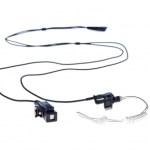 VY6-P2W-AT1 Platinum Series 2-Wire Surveillance Kit with full size PTT.
Rugged Kevlar re-enforced cable, High quality Knowles™ brand mic, Field replaceable transducers, Heavy duty strain relief, Vertex compatible replacement parts at incredible prices and Three year warranty.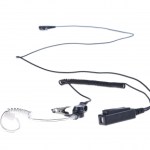 VY6-P1W-AT1 Platinum Series 1-Wire Surveillance Kit with full size PTT.
Kevlar™ coil cable, high quality Knowles™ microphone, field replaceable transducers, Vertex compatible replacement parts at incredible prices. Standard 3 year warranty.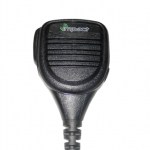 VY6-PRSM-HD3-WP Platinum Series, Water Proof (IP67) Speaker Mic.
IP67 version of our top selling HD3 speaker mic is built to withstand heavy use in demanding environments. Crystal clear audio, standard 3.5mm accessory jac and Kevlar™ re-enforced RF shielded coil cabling. Standard 3 Year Warranty.
For Impact's full line of Vertex™ EVX-S24 accessories, look for the VY6 connector on any Platinum, Gold or Silver product page at www.impactcomms.com.
Category: Amusement Parks, Casino, Church Accessories, Construction, Earpieces, Events, Golf and Hospitality, Product Releases, Restaurants, Retail & Grocery, Ski Resort, Surveillance Kits
Tags: EVX, IP, IP67, noise cancelling, vertex, Waterproof