By Mark Olsen on January 21, 2015
Who Uses Two-Way Radio?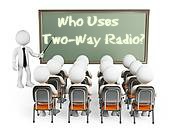 Who uses two-way radio? Two-way radio has been used for many years by various organizations and industries. Due to the nature of their operation, they have to utilize two-way radio to address their communication needs. Examples of organizations and industries that rely on two-way radio are:
Public Safety: Police, Security, Fire, Emergency Medical Services / Ambulance, Disaster Recovery.
Security: Military, FBI, CIA.
Transportation: Railway, Airlines/Airport, Seaport, Light Rail, Subway, Buses.
Oil & Gas companies
Utility companies: Electricity, Gas, Water, Telephone, Cable TV.
Transport Service: Taxi, Limos, Trucking.
Construction companies: Commercial, Residential, Road and Bridge.
Hospitality industries: Hotel, Resort, Casinos, Restaurant, Tourism.
Government agencies: Ministries, Local government, Municipal, Embassies, Public Works.
Services industry: Delivery companies, Towing companies.
Manufacturing
Contractors: Electrical, Excavating, Plumbing, Roofing.
And many others…
In other words, users of two-way radios are any agencies or businesses with multiple staff or workers who work in a group and/or are mobile.
Category: LEARNING CENTRE