By Mark Olsen on April 10, 2019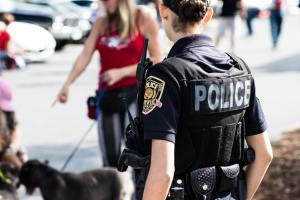 For police officers, safety is always the top priority. Most police forces are already using two-way radios to communicate, since they allow officers to stay in contact at all times, they provide reliable coverage across large distances, and many radios feature emergency alarm signals.
Choosing the right accessories to go with your two-way radios can further enhance officer safety and efficiency, whether you need equipment for bike police, SWAT teams, or patrol officers. Here are some of the most popular radio accessories for cops:
Universal Radio Chargers
Most officers are on the go and don't have time to charge their radio batteries back at the station. With a universal charging bank, you can charge up to 6 radio batteries at a time, even if they're different makes or models – so there will always be a full battery available to swap out. Some chargers can even be used in the car, which is perfect for officers on patrol.
Speaker Mics
Speaker or shoulder-mounted microphones are a staple among police officers, as it allows them to communicate with dispatch quickly and easily. Look for added durability features that will stand up to heavy duty use such as high-impact casing, KevlarTM reinforced cables, and an IP rating to protect your equipment from dirt and moisture.
Surveillance Kits
Surveillance kits are commonly used by undercover and plainclothes officers to stay in contact with their teams without drawing attention to themselves. Depending on your needs, you can choose between 1-wire, 2-wire, or 3-wire earpieces. 3-Wire earpieces are typically the most durable and provide the highest quality.
Exploring the variety of radio accessory options available is a great way to get the most out of your existing two-way radios, improving officer and public safety as well as efficiency.
---
Impact Radio Accessories is a world leader in the design and manufacture of unique communication products including surveillance earpieces for a range of industries and applications including public safety, security, hospitality, and others. Contact us today to learn more about our product offering!
Like this? You might also like:
Category: Chargers, Public Safety, Speaker Mics, Surveillance Kits
Tags: