By Mark Olsen on September 21, 2021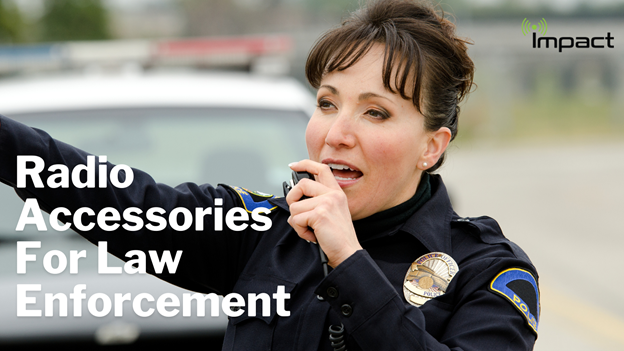 In law enforcement, where a second can make all the difference, personnel must be equipped with the best quality accessories for their two-way radios.
The number one priority for law enforcement personnel is ensuring safety. Two-way radios are an essential part of this. They provide law enforcement personnel with a way to remain in contact at all times and choosing the right accessories that are reliable, functional, and super-tough are essential when lives are on the line.
Impact provides some of the most robust two-way radio accessories for law enforcement personnel. Our Platinum and Gold Series product lines are designed and manufactured using the highest-grade materials to ensure crystal clear communication from the field.
Here are some of our most popular radio accessories that ensure law enforcement personnel perform their duties safely and effectively.
Earpieces and Surveillance Kits
Law enforcement personnel work in demanding outdoor environments and require radio accessories that are durable and rugged. Impact's Platinum Series surveillance kits are designed for users who cannot afford to sacrifice reliability and performance.
We recommend using the Platinum Series 3-Wire Surveillance Kit with Silent Barrel Push-to-Talk (PTT). The P3W features a micro MEMS (Micro Electrical-Mechanical System) surface-mount Knowles™ mic inside an incredibly small mic casing for true covert use while on the job. Dual clips allow for multiple securing options and anchored Kevlar® reinforced cabling ensures rugged reliability under any condition.
Surveillance kits are also available in 1-wire and 2-wire, depending on your needs.
Speaker Mics
For law enforcement personnel looking to communicate with dispatch quickly and easily, speaker or shoulder-mounted microphones are a must-have. Impact's Platinum Series speaker mics offer added durability with features such as Kevlar™ reinforced cables, high-impact casing, and waterproofing.
We recommend using the HD8-WP, our waterproof military-grade radio speaker microphone. This combines high-quality waterproof functionality with noise suppression technology into a single microphone for the ultimate heavy-duty speaker microphone for the most demanding environments.
Radio Chargers
Since most law enforcement personnel are out in the field, they require a battery charger that offers flexibility. Impact's Universal Radio Battery Chargers utilize our fully interchangeable cup system to support most new and discontinued two-way radio batteries.
We recommend using our Universal Rapid 3-Bank Two-Way Radio Battery Charger. This compact and lightweight charger has the ability to charge in AC and DC modes, via a small internal (not in-line) power supply.
Impact offers quality radio accessories for law enforcement that fit every need and budget. Contact us to learn more.
---
Impact Radio Accessories is your #1 source for two-way radio accessories. We are a world leader in the design and manufacture of communication products including surveillance kits, speaker mics, radio battery chargers, headsets, and adapters. Impact's accessories are trusted by demanding industries and applications such as public safety, security, construction, healthcare, manufacturing, transportation, hospitality, and beyond. OEM quality radio accessories at aftermarket prices.
Category: Earpieces, Public Safety, Surveillance Kits
Tags: earpieces, Speaker Mics, Surveillance Kits, two way radio, Two-Way Radio Accessories