By Mark Olsen on October 27, 2021
Throat mics sense and absorb vibrations from the user's throat via a sensor worn on the neck. These mics were initially developed for tactical operations because they provide touchless communication; however, they are now popular across several industries.
How Do Throat Mics Work?
Unlike regular microphones, throat microphones pick up the user's voice by placing the mic in close proximity to their throat. This allows the user to transmit in loud environments and still be heard clearly. Some throat mic models are designed for heavy-duty use, including features for enhanced transmission and adjustable bands for greater comfort.
Who Are the Best Users for Throat Mics?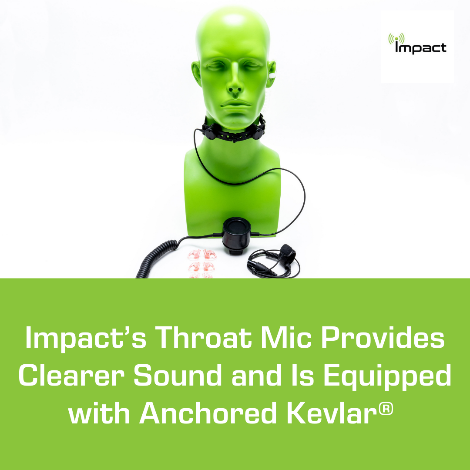 Throat mics are most commonly used by personnel in the military, law enforcement, or emergency services. They are ideal for tactical and covert scenarios since they are capable of picking up even whisper-volume transmissions. For example, special forces use throat mics to communicate discreetly without giving away their location.
Throat mics are also popular with crane operators, people wearing hazmat suits, all-wheel-drive operators, amateur airsoft and paintball enthusiasts.
With health and safety regulations at the forefront due to the pandemic, throat mics are the perfect alternative to regular mics and headsets since having a mask over the user's mouth can complicate communications.
Heavy-Duty Throat Mic for Two-Way Radios
Impact's heavy-duty throat microphone includes dual throat transducers for clearer sound, an oversized PTT, ring-finger switch, and molded ear inserts. This microphone is equipped with anchored Kevlar ® reinforced coil cable and is fully submersible and chemical resistant.
Easy Online Ordering
If you haven't ordered products directly on Impact's website, watch how easily you can do it in this 2-minute video.
Impact Radio Accessories is your #1 source for two-way radio accessories. We are a world leader in the design and manufacture of communication products, including surveillance kits, speaker mics, radio battery chargers, headsets, and adapters. Impact's accessories are trusted by demanding industries and applications such as public safety, security, construction, healthcare, manufacturing, transportation, hospitality, and beyond. OEM quality radio accessories at aftermarket prices.
Category: Microphones, WaterProof
Tags: earpieces, heavy-duty, Microphone, Waterproof