By Mark Olsen on March 15, 2022

There are significant challenges that the forestry and construction industries face during operations. Some of these challenges can be attributed to a lack of proper communication that increases worker risk and can cause damage to the environment and infrastructure.
Companies can overcome some of these challenges by equipping their employees with durable two-way radio accessories that provide crystal clear communication and are built for loud environments.
The right accessories can improve productivity and workplace safety in the forestry and construction industries.
Uses Of Two-Way Radio Accessories in Forestry and Construction
Two-way radio accessories help forestry and construction teams improve efficiency, increase safety, and avoid errors.
Coordination: Two-way radio accessories are used to coordinate daily tasks, deliveries to the site, and keep projects on schedule with instant communication.
Increase Safety: Workers can easily communicate if there are any hazards, and emergencies can be responded to quickly.
Avoid Errors: If workers are unclear on a project or task, they can communicate their concerns to the supervisor to avoid costly errors.
Impact Accessories for Forestry and Construction Industries
Impact's two-way radio accessories are built for extreme high noise environments like those experienced by forestry and construction workers.
Here are some accessories we recommend for these industries:
Headsets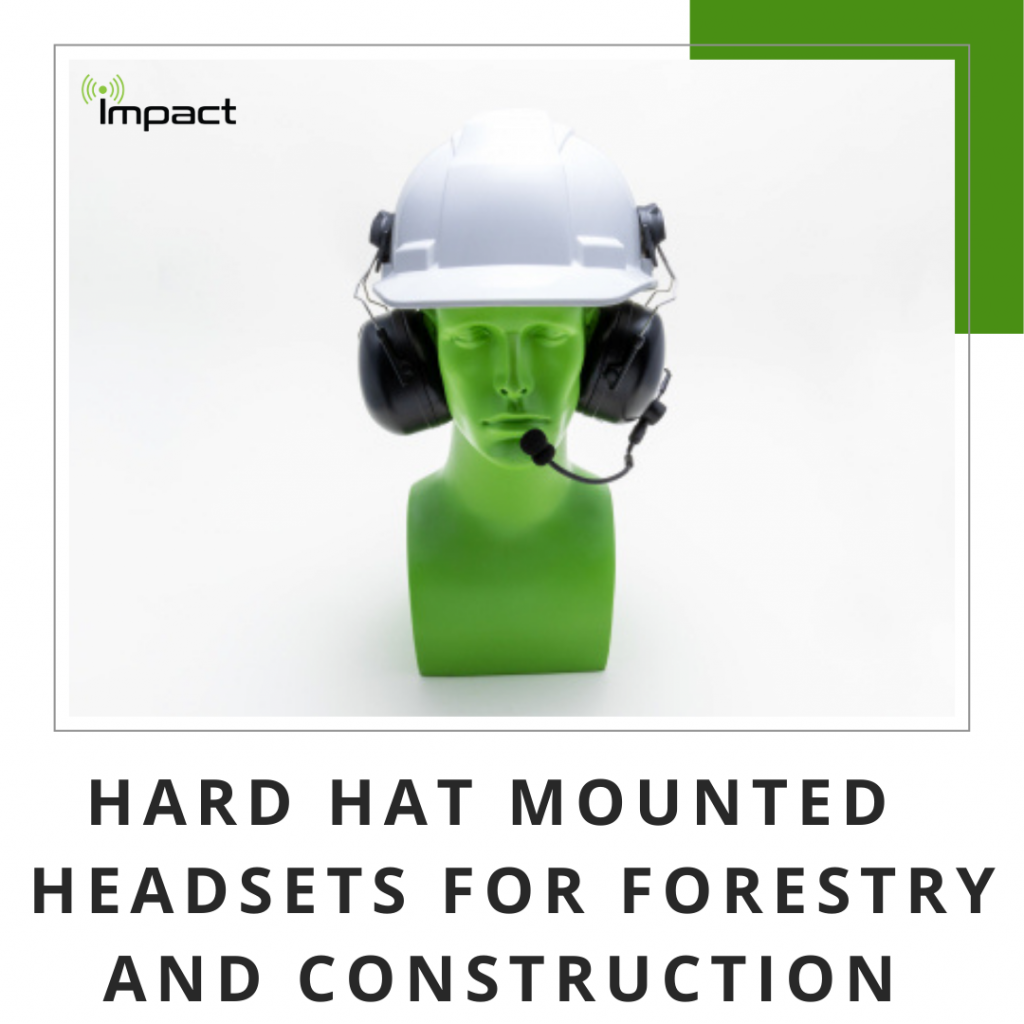 Impact's two-way radio headsets are built for the toughest applications and come in several options.
Hard Hat Mounted Two-Way Radio Headset: This headset easily mounts onto a hard hat and features a heavy-duty adjustable gooseneck boom microphone with a replaceable foam wind cover and Kevlar® cabling for superior strength.
Behind-the-Head Headset: This heavy-duty headset features a fully adjustable strap and can be used with most helmets and hats. It comes equipped with a dynamic noise-cancelling mic, flexible gooseneck with noise reduction microphone, Kevlar ® coil cable, and a -24dB noise reduction rating.
Speaker Mics
Impact's suite of microphones includes IP-rated waterproof and noise suppression options ideal for demanding environments.
Waterproof Two-Way Radio Speaker Mic: This waterproof IP67-rated version of our speaker mic provides crystal clear audio and features Kevlar® reinforced cabling and a fully sealed 3.5mm audio accessory jack. This waterproof speaker microphone performs great in the elements and is ideal for outdoor environments such as construction and forestry.
Earpieces
Impacts Platinum Series earpiece kits are built for the toughest applications.
Noise Cancelling Kit: This Platinum Series Noise Cancelling 2-Wire Surveillance Kit with Full Size PTT is operable with gloves, making it easy to use for construction and forestry workers. It reduces most background noise, so a user's voice is transmitted clearly in high-noise environments.
Looking for Two-Way Radio Accessories?
Contact us and we will help you find the right two-way radio accessory.
About Impact Radio Accessories
Impact Radio Accessories is your #1 source for two-way radio accessories. We are a world leader in designing and manufacturing communication products, including surveillance kits, speaker mics, radio battery chargers, headsets, and adapters. Impact's accessories are trusted by demanding industries and applications such as public safety, security, construction, healthcare, manufacturing, transportation, hospitality and beyond. OEM quality radio accessories at aftermarket prices.
Category: Construction, Forestry, Headsets, Speaker Mics, Uncategorized
Tags: construction communication, headsets, noise cancelling, Speaker Mics, Two-Way Radio Accessories