By Cindy Danielson on July 20, 2020
It's difficult but not impossible to meet your sales target during the COVID-19 pandemic. Two-way radio and accessories sales reps who are used to meeting customers face-to-face, now have to adapt their approach and focus on inside strategies.
Here are a few tips to guide you on how to become a better inside sales rep:
1. Develop Rapport
The first step you need to take is to develop an inside sales strategy. When reaching out to new buyers, try not to sound completely like a salesperson. You need to establish a relationship with the buyer and offer them something of value that helps them do their job better.

If you don't have content (e.g. blogs, videos, white papers, or case studies) produced by your own marketing team, you can share relevant and informative third-party content that is educational like the 4 Tips to Improve Radio Communications with a Mask or How to Clean Your Radio Accessories. Having a productive and informative dialogue is essential to building a solid relationship and establishing credibility.

Use the elevator pitch to tell the potential buyer how your radios and accessories help them. Focus on asking good questions and having a collaborative conversation with less of a focus on specific products during the early stages of the sales cycle.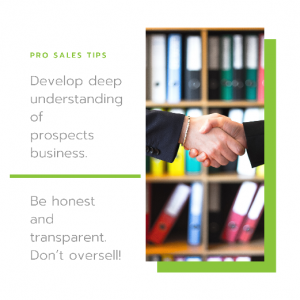 During the interaction with a potential buyer, you will face objections. Be prepared and anticipate what these objections will be and ideally write them down. A quick and thoughtful response instills confidence in the buyer.
You need to commit to following up and shouldn't wait around for a potential buyer to reach out to you.
Resource: Effective Sales Tactics for Closing Leads
2. Leverage LinkedIn for Networking
LinkedIn is a powerful social network for businesses to build relationships with potential buyers. To leverage sales from the platform you need to ensure your profile is professional and optimized to target the right connections.
Professional Photo: You have seven seconds to impress a potential client on LinkedIn. A well-written and client-focused profile can make all the difference in gaining the right connection or being ignored. Begin with a high quality and professional profile picture that establishes your brand. According to LinkedIn, profiles with headshots are 14 times more likely to be viewed. So, don't miss this opportunity to make a great impression.
Headline & Summary: The headline and summary of your profile needs to target your audience. Speak directly to potential buyers, you want them to know that they are in the right place and you offer the solution they are looking for. It's important to incorporate keywords that buyers might be looking for.
Credibility: Establish your credibility by providing appropriate information on your professional background and regularly posting content that your connections will find interesting. Additionally, use LinkedIn Publisher posts and videos of you speaking on radios and accessories to cement your standing as an authority on the subject. Add a Call to Action (CTA) to your profile to help get leads and facilitate between yourself and the buyer.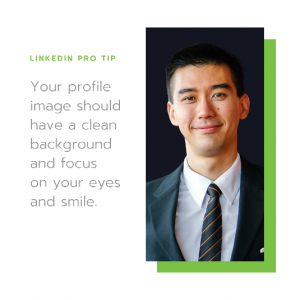 Get Connected: To maximize your reach, you need to start with accepting connection requests liberally. This allows you to gain access to 2nd and 3rd level connections because the more people you are connected with, the higher your chances of appearing on people's searches. When reaching out and sending new connection requests, try to customize messages to individuals. Spend a few minutes researching the profile of the person you want to connect with and finding some commonalities. Personalizing your invites shouldn't be an option if you want to make the right connections and succeed at selling.
Make sure you connect with your clients and colleagues to leverage these connections for future referrals and introductions. When connecting with potential buyers, base your conversations around trigger events. When you are finally ready to take the conversation offline, provide something compelling and valuable that a potential buyer cannot resist.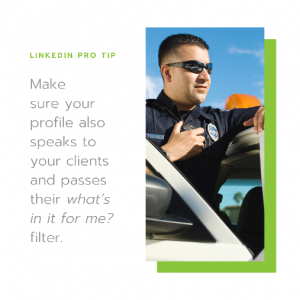 Join and Participate in Relevant Groups: LinkedIn Groups is one of the fastest ways to expand your network. You need to find groups that your potential buyers belong to and try avoiding groups that are filled with industry peers and competitors. Group members can send messages to other members even if they aren't connected. Avoid posting messages in groups that might be perceived as heavily commercial or self-serving.
Use Hashtags: When posting new updates, remember to include relevant hashtags (e.g. #twowayradio, #pushtotalk) to help prospects find you. You can search and follow relevant hashtags to find prospects too.

Resource: Transform Your LinkedIn Profile into a Client Attracting Landing Page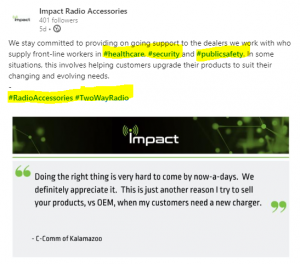 3. Use Social Proof Selling
Social proof is the concept that people will follow the actions of the masses. Social proof is a powerful selling tool as it reduces the risk associated with the buying process. Buyers are less likely to make a purchase if it has a high perceived risk. A great way to use social proof is to tell potential buyers about customer success stories. This can be in the form of customer reviews, case studies, or testimonials. When using social proof try to focus on how customers similar to your potential buyers have experienced positive results from your two-radio radios and accessories.
Resource: How to Use Social Proof to Sell Better and Faster
Following these steps can make your transition from outside to inside sales rep smoother and you should see results in no time!
Contact us today to learn more about our industry-leading two-way radio accessories.
---
Impact Radio Accessories is your #1 source for two-way radio accessories. We are a world leader in the design and manufacture of communication products including surveillance kits, speaker mics, radio battery chargers, headsets, and adapters. Impact's accessories are trusted by demanding industries and applications such as public safety, security, construction, healthcare, manufacturing, transportation, hospitality, and beyond. OEM quality radio accessories at aftermarket prices.
Category: Education Industry
Tags: Sales Tips