By Cindy Danielson on August 19, 2020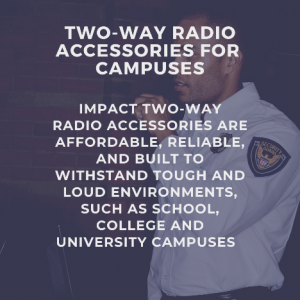 Administrators across North America are preparing for the possible reopening of school campuses this Fall. Unlike other years, educational institutions are also dealing with COVID-19.
It's everyone's first priority to keep students safe whether it's from COVID, gun violence, or other crimes.
Campus security professionals use communication solutions to respond to threats quickly and count on quality two-way radio accessories to help them get the job done.
At Impact, our two-way radio accessories are affordable, reliable, and built to withstand tough and loud environments, such as school, college, and university campuses.


Toughest Line of Two-Way Radio Accessories for Campus Security
Our Platinum Series microphones are the toughest line of products we offer. These microphones are built to withstand the daily demands of campus security personnel while maintaining clear audio quality. The wind, water, impact, and dust resistant microphones come with a three-year warranty for our customers.
Sanitary Radio Accessory Options for Discreet Communication
For customers that want their security teams to communicate discreetly, our Gold Series earpieces offer a variety of options and blend in with uniforms and provide a reliable source of communication. With COVID, employee health and safety is a major focus of administrators and these Gold earpieces come with 12 interchangeable ear options, making them easier to and more sanitary to share.
Our Silver Series surveillance kits are specifically designed with budget in mind. While less robust than our Gold products, these kits do not compromise on audio quality or reliability.
One Battery Charger for Different Two-Way Radios
Campuses might own two-way radios manufactured from different companies. To save on the cost of buying multiple chargers, Impact offers a rapid six bank universal charger with an interchangeable cup system. Made with a super-tough Polycarbonate casing, the space-saving design of the charger lets your charge your batteries anywhere with or without the two-way radio attached.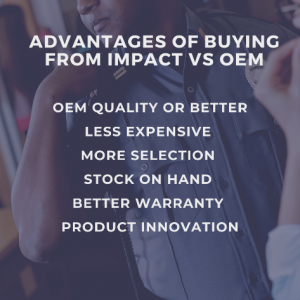 Impact vs OEM
Impact offers two-way radio accessories that are not only more cost-effective but often surpass the quality of original equipment manufacturer (OEM) accessories. Many OEMs offer limited accessory options to choose from but we offer two-way radio accessories that meet every budget and need.
Need Accessories Now? Check out these popular in-stock items that we can ship to you TODAY.
Why Purchase from An Aftermarket Supplier?
Read our blog 7 Reasons to Purchase Two-Way Radio Accessories from an Aftermarket supplier to learn more about the advantages of buying two-way radio accessories for your campus from Impact.
Contact us today to learn more about our industry-leading two-way radio accessories for campus security.
---
Impact Radio Accessories is your #1 source for two-way radio accessories. We are a world leader in the design and manufacture of communication products including surveillance kits, speaker mics, radio battery chargers, headsets, and adapters. Impact's accessories are trusted by demanding industries and applications such as public safety, security, construction, healthcare, manufacturing, transportation, hospitality, and beyond. OEM quality radio accessories at aftermarket prices.
Category: Education Industry
Tags: Back to School, Campus Security, Two-Way Radio Accessories