By Cindy Danielson on August 12, 2020
If you're in the market for two-way radio accessories, you've likely discovered many options including original equipment manufacturer (OEM) accessories to those offered by aftermarket suppliers – making the right decision can be daunting.
As part of your research, it's important to factor in your needs and budget. It's a common misconception that OEM two-way radio accessories are of a higher quality when, in fact, those offered by aftermarket suppliers have benefits that often surpass OEM.
Here are 7 reasons to purchase two-way radio accessories from an aftermarket supplier:
1. OEM Quality or Better
Some aftermarket suppliers provide two-way radio accessories that are actually better than OEM products. Aftermarket suppliers strive to improve two-way radio accessories by using better quality materials to make them high-performing and more durable. Two-way radio accessories offered by Impact meet or exceed OEM quality while being reliable and super-tough.
2. Less Expensive
Aftermarket two-way radio accessories range in price, however, they are generally less expensive than OEM because you're not paying for the OEM brand name. The price of a headset from a popular OEM can cost three times as much compared to a similar product sold by Impact. Impact products are priced 30-60% less compared to OEM.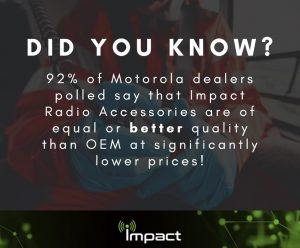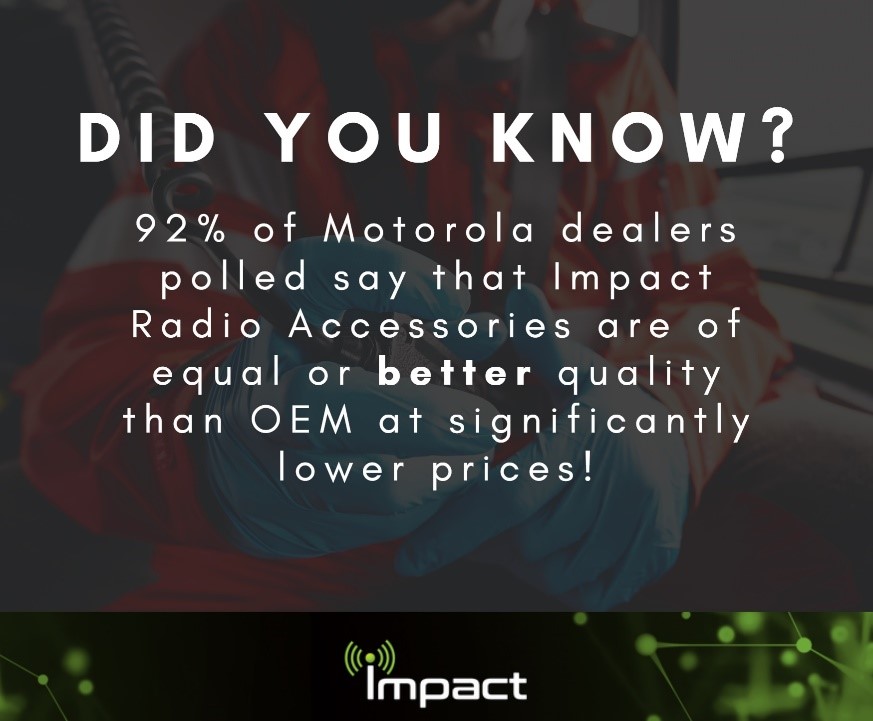 3. More Selection
OEM's often provide limited accessory options but some aftermarket suppliers provide a variety of choices and options to meet every budget and application.
At Impact, two-way radio accessories are available in platinum, gold, and silver series. Each series is available at different price points while maintaining fantastic audio quality with reliable components.
4. Stock on Hand
Demand for two-way radio accessories spikes throughout the year depending on the industry and budget cycles. Some aftermarket suppliers plan ahead and stock up heavily on inventory so you can receive them fast.
See Impact's popular radio accessories in stock and ready to ship today!
5. Better Warranty
OEMs typically offer 12-month warranties while aftermarket supplier warranties may vary. It's important to ask suppliers about their warranties to make sure you are getting the best warranty for your dollar.
Impact's no hassle warranties vary from 1-year for our budget-friendly Silver products, 2-years for our Gold products and 3-years for our super tough Platinum products.
All our products are tested at least seven times by our Quality Control specialists and then tested again before shipping.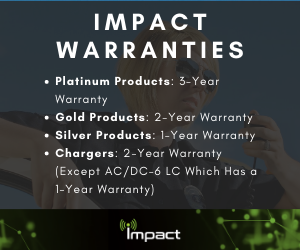 6. Product Innovation
It's important to ask suppliers their new product development plans. Technology constantly changes so you'll want to make sure you have access to the latest and greatest products on the market.
Some aftermarket suppliers invest heavily in Research and Development to produce two-way radio accessories of OEM or better quality.
A bonus with some aftermarket suppliers is the availability of unique features not available with OEM accessories. At Impact, we are experts in two-way radio accessory innovation and do not treat them like an afterthought. In fact, we are underway with a new product that will be ready to launch over the coming months so stay tuned!
7. Profitable Partnerships
In addition to the previous six points, some aftermarket suppliers focus on helping dealers grow revenue by providing attractive margins and additional sales and marketing support. Impact provides all of these PLUS private labeling for dealers looking to brand accessories with their logo and drop shipping service.
There are several advantages of working with Impact for radio dealers looking to expand their offerings and increase profit margins.
Since 1999, Impact has offered quality two-way radio accessories at competitive prices, growing to become a world leader in the design and manufacture of unique communication products for several industries.
Contact us today and learn more about our industry-leading two-way radio accessories.
---
Impact Radio Accessories is your #1 source for two-way radio accessories. We are a world leader in the design and manufacture of communication products including surveillance kits, speaker mics, radio battery chargers, headsets, and adapters. Impact's accessories are trusted by demanding industries and applications such as public safety, security, construction, healthcare, manufacturing, transportation, hospitality, and beyond. OEM quality radio accessories at aftermarket prices.
Category: LEARNING CENTRE
Tags: Aftermarket, Tips