By Mark Olsen on May 11, 2021
Earpieces and surveillance kits are essential accessories for two-way radios in several industries. When deciding which accessory you require, it is necessary to consider the difference between earpieces and surveillance kits and the function they provide.
Here are the top 4 things to consider when buying two-way radio earpieces and surveillance kits.
1. Wire Type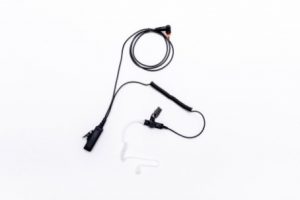 1-Wire: These earpieces have a single cable that travels from the radio connector to the PTT unit and then onto the earpiece. The 1-wire earpieces have less wire than the 2-wire option, limiting users to wear the PTT and mic on their collar or lapel. The 1-wire listen only option does not have a PTT, and the cable goes directly from the radio connector all the way up to the earpiece. The listen only earpieces are best suited for situations in which users only need to monitor radio communication and are typically more cost-effective than 1-wire earpieces with PTT and mic.
2-Wire: These surveillance earpieces have separate cables for the PTT/mic unit and earpiece. This gives users the option of wearing the PTT/mic on their lapel or running it down their sleeve. The second wire leads to the earpiece, usually running under clothing and up the user's back and out the collar. To broadcast into the mic, the user would raise their hand to their mouth, key the PTT then talk. The 2-wire earpieces are ideal for situations where communication needs to be somewhat hidden.
3-wire: While there are a large variety of combinations, like a wireless PTT, VOX, Bluetooth, and more, the basic concept of the 3-wire solution is the same. From the radio connection, the first wire leads to a barrel style PTT, usually run under clothing, up the user's back, down the sleeve, and clipped inside the cuff of a long sleeve shirt or jacket. The second wire leads to the earpiece, usually running under clothing, up the user's back, and out the collar. The third wire runs under the user's clothing around the front to a hidden microphone that clips underneath the collar inside a shirt. To to broadcast into the mic, the user would key the PTT with a thumb and talk.
The diagram below outlines some of the various wire configurations available. From left to right: 1-Wire with PTT, 2-Wire, listen only to the radio, and listen only to the speaker microphone.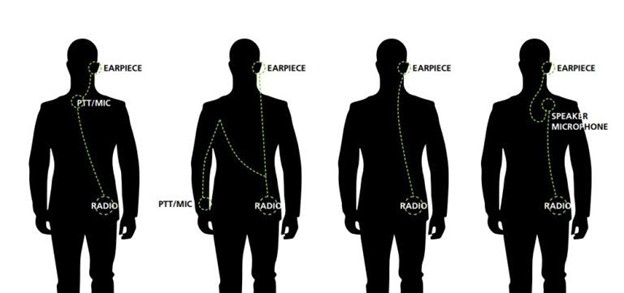 2. Application
1-Wire: These earpieces are more ideal for warmer climates or when users are wearing short-sleeved shirts or uniforms. Listen-only earpieces could be used by shift supervisors or police departments, for example, who do not need to talk to others. The most common markets for 1-wire surveillance earpieces are: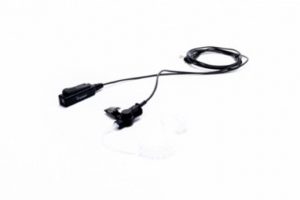 2-Wire: These earpieces are more "covert," making them the preferred choice for discrete applications. The most common markets for 2-wire surveillance earpieces are:
3-Wire: This is the most concealed option and a lot of the time comes with regular headphones, so the user looks to be just listening to music. The 3 Wire surveillance kit is used in undercover or concealed operations or where anonymity is key.
3. Ear Piece Style
Ear buds (aka ear tips): A term used to describe the removable protective part of an earpiece that fits in your ear. They are typically available in different sizes, colors and shapes to improve comfort for long periods of use. Ear buds are commonly made of medical-grade silica gel. Always be sure to check with the manufacturer, as some lower quality ear tips can be made from Latex or Silicone. View all our replacement parts.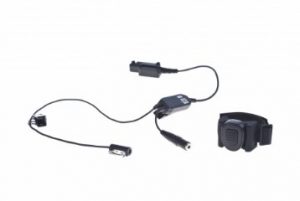 4. Budget
Almost every industry and application have different two-way radio accessory needs. To meet these varying requirements, Impact offers three distinct product series – Platinum, Gold, and Silver – to ensure you have an option for every budget, application, quality level, and warranty.
Platinum: The Platinum Series is designed for heavy-duty users and come with a 3-year warranty. They are equipped with high strength, heavy-duty Kevlar™ reinforced cables, and high-quality Knowles™ microphones and speakers for superior audio quality.
Gold: Best suited for medium-duty applications, the Gold Series' Snaptight™ feature has 12 different fully interchangeable earpiece options creating the most cost effective, versatile, and hygienic solution on the market.
Silver: The budget-friendly, light-duty Silver Series earpieces are used by some of the largest retail stores, restaurants, and hotel chains across North America. They are designed for low-to-medium-duty applications.
Earpieces & Surveillance Kits to Suit Your Needs
No matter what your industry, budget, or earpiece and surveillance kit needs, Impact has you covered. Our full range of products includes everything from top-quality accessories for heavy-duty applications to equipment designed with budget in mind. Contact us to learn more.
---
Impact Radio Accessories is your #1 source for two-way radio accessories. We are a world leader in the design and manufacture of communication products, including surveillance kits, speaker mics, radio battery chargers, headsets and adapters. Impact's accessories are trusted by demanding industries and applications such as public safety, security, construction, healthcare, manufacturing, transportation, hospitality and beyond. OEM quality radio accessories at aftermarket prices.
Category: Earpieces, LEARNING CENTRE, Surveillance Kits
Tags: 1-wire, 2-wire, 3-wire, earpieces, Surveillance Kits, Two-Way Radio Accessories