By Mark Olsen on August 23, 2021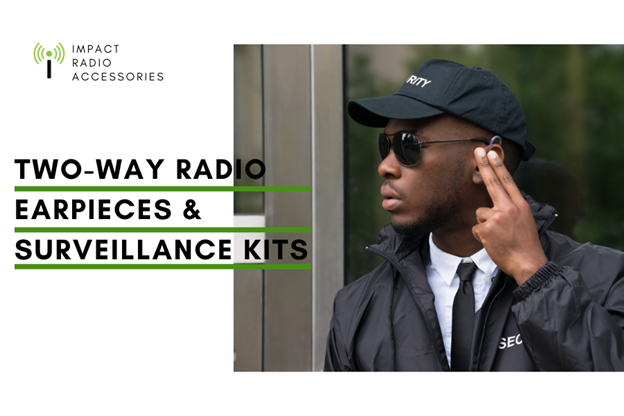 Earpieces and surveillance kits are essential two-way radio accessories, especially in the public safety, hospitality, and retail industries.
We've compiled a list of the top 8 things you need to consider when selecting an earpiece or surveillance kit.
1. Application
The type of earpiece or surveillance kit will largely depend on the user's industry. Impact Radio Accessories offers earpieces and surveillance kits in three distinct series for every application and budget.
Platinum Series: The heavy-duty Platinum Series is built for the most demanding applications, including public safety and industrial use. These accessories feature Kevlar™ reinforced cables for superior strength and come with a 3-year warranty.
Gold Series: The Gold Series features Impact's Snaptight™ feature with 12 different fully interchangeable earpiece options, creating the most cost-effective, versatile, and hygienic solution on the market. These earpieces and surveillance kits are ideal in industries such as retail and recreation, where multiple people might use the same accessory.
Silver Series: These are the most budget-friendly accessories designed for light-duty use but still offer crystal clear audio quality and reliable components.
2. Wire Type
When deciding two purchase an earpiece of surveillance kit, users need to choose between 1, 2, or 3-wire radio accessories.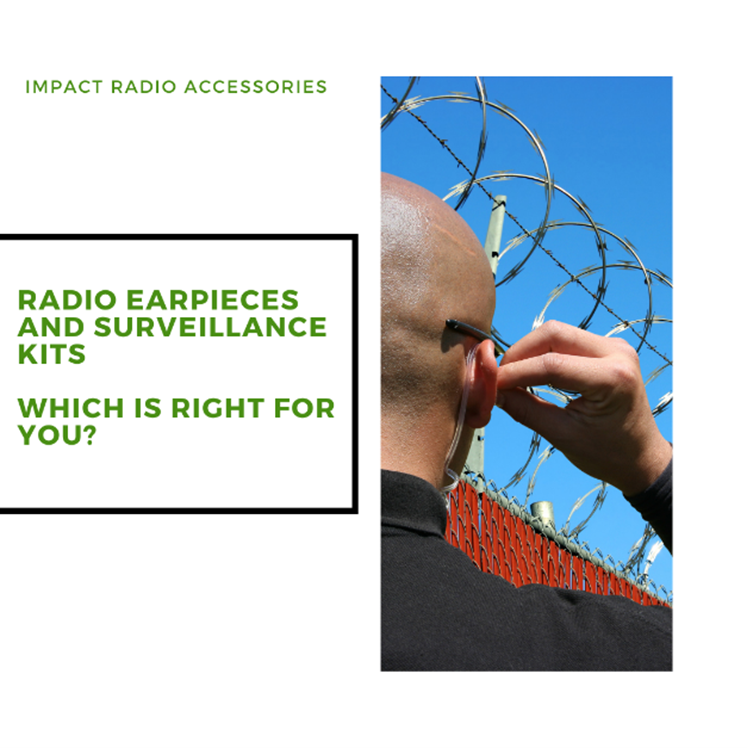 1-Wire: With 1-wire surveillance earpieces, a single cable travels from the radio connector to the PTT unit and then onto the earpiece. Because they don't have as much cable as their 2-wired cousins, users of 1-wire surveillance earpieces are limited to wearing the PTT and mic on their collar or lapel. The most common markets for 1-wire surveillance kits are security teams, event staff, hotels, and hospitality.
2-Wire: 2-wire surveillance earpieces have separate cables for the PTT/mic unit and earpiece, which gives users the option of wearing the PTT/mic on their lapel or running it down their sleeve. The most common markets for 2-wire surveillance kits are police, corrections, high-end security, factories, construction sites, and industrial uses.
3-Wire: In the 3-wire surveillance earpiece, the first wire from the radio connection leads to a barrel-style PTT, usually run under clothing and up the user's back, down the sleeve, and clipped inside the cuff of a long sleeve shirt or jacket. The second wire leads to the earpiece, usually running under clothing up the user's back and out the collar. The third wire runs under the user's clothing around the front to a hidden microphone that clips underneath the collar on the inside of a shirt. To broadcast into the mic, the user would key the PTT with a thumb and talk. The 3-wire is the most concealed option and a lot of the time comes with regular headphones, so the user looks to be just listening to music. The 3 Wire Surveillance kit is used in undercover and concealed, operations or where anonymity is key.
Listen Only: With 1-wire listen only, there is no PTT, and the cable goes directly from the radio connector all the way up to the earpiece. 1-wire earpieces are commonly used by hotel and hospitality staff, in the school and educational environment, and commercial applications.
The diagram below outlines some of the various applications of the various wire configurations available. From left to right: 1-Wire with PTT, 2-Wire, listen only to the radio, and listen only to the speaker microphone.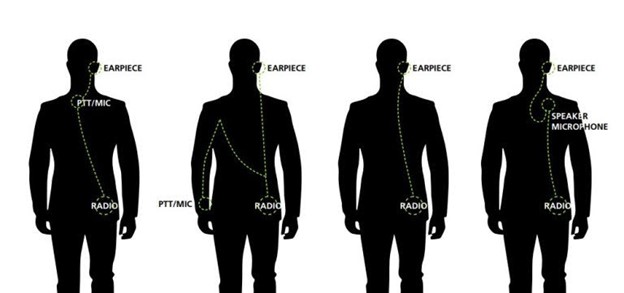 3. Ear Piece Styles
Your style will depend on the ear size, shape, and comfort. Earbuds (aka ear tips) come in various shapes and sizes. People with small ear canals would require a smaller size earbud, while most people would require a standard size. If people have problems using even a small earbud, we recommend an ear hook with a speaker that sits inside the ear. Earpieces with Impact's D1 adjustable ring can accommodate all ear sizes and are ideal for users who require a hearing aid.
We recommend using the molded ear gel for those that might find the standard earbud uncomfortable since it sits inside the ear instead of going down the ear canal. Earbuds are commonly made of medical-grade silica gel. Always check with the manufacturer, as some lower-quality ear tips can be made from Latex or Silicone. View all our replacement parts.
4. Transducer
The transducer, which typically refers to the speaker in an earpiece, can be made of different materials, including brass, metal alloys, and plastic. The highest audio quality is provided by brass, followed by other metals and plastics. Transducers can be a variety of different shapes and sizes but typically are circular and approximately the size of a dime or nickel.
5. Budget
Impact offers earpieces and surveillance kits in three different series that are meet requirements for every need and budget. You can learn about the difference between Impact's Platinum, Gold, and Silver series accessories here.
6. Quick Disconnect
This is a broad term used to describe many different points of connection. Quick disconnect commonly refers to a male/female connection that can be quickly and easily disconnected and reconnected for privacy and security reasons. Quick disconnect can refer to the following connections:
Between the audio accessory cable and the radio connection point or adapter on a radio connection point.
Between the earpiece cable and the actual earpiece. Some earpieces disconnect from the cable to allow for different style earpieces for different user applications.
The most common earpiece style is a clear coiled acoustic tube, and in some cases, clear coiled acoustic tubes can quick disconnect from the transducer.
7. Push to Talk
Some earpieces feature Push to Talk (PTT), a switch or button on an earpiece or speaker mic where the user engages the switch to activate the microphone and allows for instant communication with other users. PTT earpieces are widely used in the retail and hospitality industries.
8. Noise Blocking, Cancelling, or Situational Awareness
When choosing an earpiece for a specific application, a major consideration will be whether you require noise cancelling or situational awareness. Generally, you cannot have both without getting into high-end, specialized audio accessories.
Situational Awareness: These earpieces enable you to monitor your radio while maintaining awareness of your surroundings and the ability to identify potentially dangerous external sounds. These earpieces are ideal for construction workers, military personnel, ambulance, and EMS workers.
Noise Blocking/Cancelling: These earpieces block out all external sounds so that you can focus completely on the information coming through your earpiece. Cutting out all distractions allows you to give your undivided attention to the task at hand. These earpieces are ideal for large event security personnel, riot police, and in loud environments.
Impact offers a full range of earpieces and surveillance kits for every application and budget. Contact us to learn more.
---
Impact Radio Accessories is your #1 source for two-way radio accessories. We are a world leader in the design and manufacture of communication products including surveillance kits, speaker mics, radio battery chargers, headsets, and adapters. Impact's accessories are trusted by demanding industries and applications such as public safety, security, construction, healthcare, manufacturing, transportation, hospitality, and beyond. OEM quality radio accessories at aftermarket prices.
Category: Earpieces, Surveillance Kits
Tags: earpieces, noise cancelling, Surveillance Kits, two way radio, Two-Way Radio Accessories