By Mark Olsen on October 23, 2020
You've purchased new two-way radios to help your crew communicate more effectively—what now? Choosing the right accessories will help you get the most out of your investment, so it's always a good idea to consider your needs and explore the options available.
1. Chargers
Buying radio battery chargers separately provides more flexibility than using those that come standard with your radio.
Look for a universal charger with an interchangeable cup system for the most versatility, allowing you to charge up to 6 different radios at a time. Impact even offers a 6-bank charger with a USB port for additional charging options.
Other charger features include: AC and DC charging abilities all-in-one so you can charge your batteries indoors or in a vehicle, as well as metal-cased chargers for superior durability.
Resource: read 6 Things to Consider When Buying Portable Two-Way Radio Vehicle Chargers.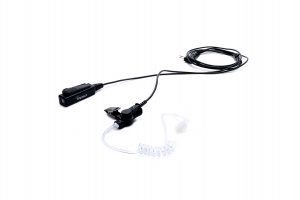 2. Surveillance Kits & Earpieces
If your staff need to keep their hands free for important tasks, consider fitting them with earpieces. Different ear buds and ear inserts are available to ensure users stay comfortable throughout the day.
Surveillance kits are another option if you want to keep your equipment hidden—perfect for plainclothes security or police.
3. Headsets
Headsets come in a variety of styles to suit your needs such as over the head, behind the head, dual muff and single speaker options.
There are even noise-cancelling headset options, which are ideal for use in noisy environments such as industrial sites. Long-term exposure to loud noises at the workplace is one of the most common occupational health hazards and can lead to permanent hearing loss. Noise-cancelling headphones can help.
Read The Importance of Noise-Cancelling Headphones for Occupational Health and Safety.
4. Speaker Microphones
Speaker microphones are one of the most common and widely-used audio accessories across various industries.
Popular in the public safety sector, speaker mics allow police and security personnel to talk on the radio while leaving it strapped to their shoulder or hip.
For added durability, look for equipment with features like Kevlar reinforced coil cables and strain relief and an IP rating, which offers protection against dust, debris, and moisture.
Also read Waterproof Ratings: What IP Numbers Really Mean.
Buy from a Reputable Supplier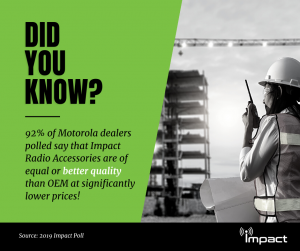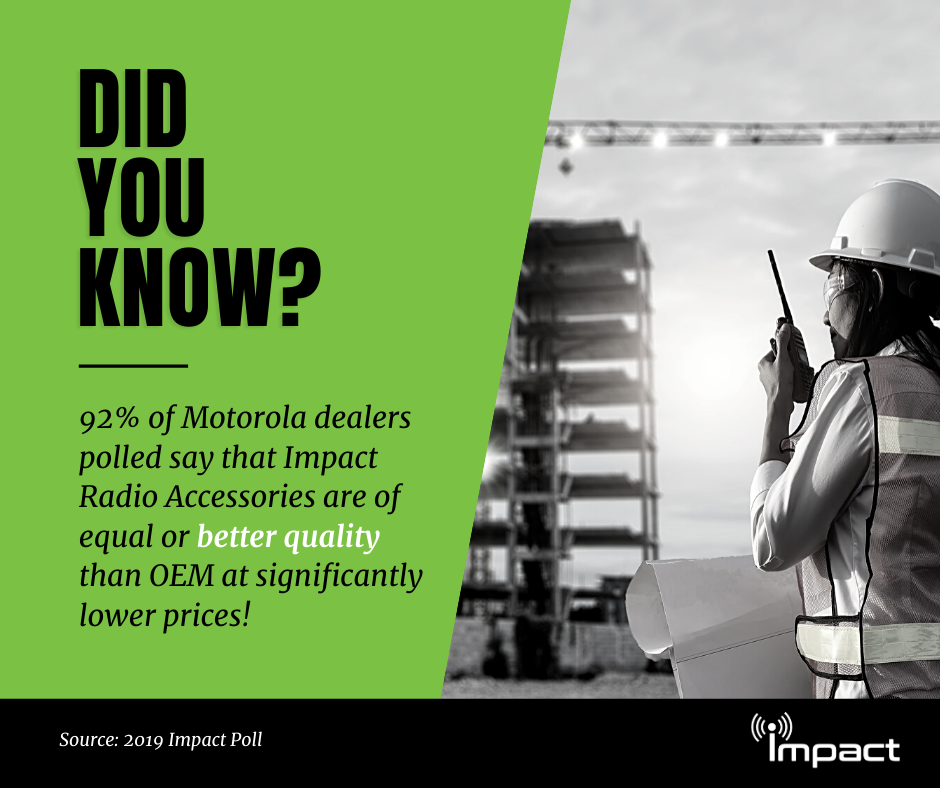 You don't have to buy your accessories from the radio manufacturer to enjoy great quality. Look for a supplier that offers a hassle-free warranty and OEM-quality products that are built to last, and ensure your accessories are compatible with your radio before you buy. Investing in the right accessories will allow you and your team to get the most out of your two-way radios, and can even save you money in the long run.
Not sure if an aftermarket supplier is the right fit? Read 7 Reasons to Purchase Two-Way Radio Accessories from an Aftermarket Supplier
Like this? You might also like:
---
Impact Radio Accessories is your #1 source for two-way radio accessories. We are a world leader in the design and manufacture of communication products including surveillance kits, speaker mics, radio battery chargers, headsets, and adapters. Impact's accessories are trusted by demanding industries and applications such as public safety, security, construction, healthcare, manufacturing, transportation, hospitality, and beyond. OEM quality radio accessories at aftermarket prices.
Category: Chargers, Earpieces, Headsets, Speaker Mics, Surveillance Kits
Tags: